Snapshots of a Commute-Free Life
By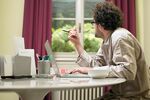 Ever since Yahoo! Chief Executive Officer Marissa Mayer issued a company-wide telecommuting ban, the practice of "working from home" has come under scrutiny. What's the reality of the commute-free, office-free life? Is it a bold frontier in tech-enabled productivity—or a green light to play Angry Birds full-time? We tracked down some full-time telecommuters and talked to them over the phone; here are their stories.
Carrie Rocha, age 37
Founder, PocketYourDollars.com, a personal finance site
Minneapolis
"I love not commuting. I can work when I'm feeling my best. I get up really early, and I can get stuff done really early in the morning and then check out early. One problem is that my parents and kids think that because I'm in my house, they can interrupt me all the time. I have to remind them that I'm working. It's nice to throw in a load of laundry, but it's also a distraction. Mainly I communicate [with employees] by e-mail, and I also use Google Talk to instant-message. I train people I've never met using Google Plus. Once a year, I can buy all 12 [employees] a meal. When my Internet goes down, my cell phone is a hot spot, so that's my backup. The first year I didn't have that, and I was like, duh. I have two computers and one is a backup. I have found that I invested in a sunlamp that simulates daylight. It helps me pick up the pace in the morning. I have to get myself revved up."
Blake Moore, 21
Director, Blake Daniel, a virtual assistant company
Sydney
"It's great not to be annoyed by a commute. These days it's not about work-life balance, it's about work-life integration. Being at home makes it more easy to deal with the family and go to the gym, which you might miss out on. There's no looking over your shoulder. But it's really hard to keep up motivation. There's procrastination. It's easy to pop the TV and maybe even go down for a snooze if you're having a rough day. Our team Skypes together and we occasionally meet up. It's important to keep that team dynamic going; you don't get that when you're sitting at home sharing e-mails. We do team-building activities, because people can be passive-aggressive with each other when they e-mail. We did paint-balling about a month ago. When Wi-Fi recently went out, it was like a panic attack and s- - - hit the fan."
Robin Closs, 36
Structural engineer at RJR Engineering
Buffalo
"I work at an engineering firm that works on bridges and buildings. It's not the normal "work-from-home" career. I really enjoy the flexibility to do things during the day—I volunteer teaching engineering principles to kids—but of course, little problems do arise. When my company gets new employees, they sort of don't know how to deal with me, if they even know who I am. Still, if I worked in the office I'd get interrupted talking to people and might not get all that much done. At home you have to be able to put blinders on and carefully manage your time. It suits me, but it's not for everybody."
Anthony Eden, 36
Software Engineer, Living Social
Montpelier, France
"I work for an American company, and while working around time zones is a major challenge, I've found the real key is being able to communicate. I miss out on some things—I'm not privy to hallway conversations at the office, for instance, but there are lots of benefits to working remotely. You can travel and still work, provided there's Internet. On a trip to a remote part of France I found myself sitting at a McDonald's because it was the only place that had Wi-Fi. It was okay—you do what you have to do—but it's not real fun to sit at a McDonald's all day."
Kelby Carr, 40
Founder of Type-A Parent, an online parenting hub
Asheville, N.C.
"I switched from working in an office as a newspaper journalist to working at home more than five years ago, and it's hard to imagine going back. I'm more productive at home. In the office there are all kinds of distractions—people drop by your cubicle to chit-chat, meetings go on forever. Now everyone who works for me works remotely. We use Skype and Facebook groups to create a virtual water cooler, so there's a lot of virtual socializing. People in traditional offices miss out on that."
Christine Tsien Silvers, 43
Chief Medical Officer, AFrame Digital
Boston
"One of the reasons I left clinical medicine [as an emergency physician at the local hospital] was that I just didn't like being away from my young children for 12 or 14 hours at a time. Now I work for a company based in Virginia. For me, working from home is a huge time-saver. I don't waste time hanging around in a lab—and though I might take an hour and a half off during the day, I might be up from 4 to 7 a.m. getting work done. I do see that there are some disadvantages to working from home. Every December, I miss the office holiday party and though I've considered flying down for it, that seems rather excessive."
Susan Cole, 35
Social Media Director, Upstate Medical University
Syracuse, N.Y.
"In the past, I was working frequently from hotels and airports. I got used to working on the road. Now I have small kids and work from home. I get to have breakfast with them and see them much more than I would at an office, but you have to be realistic about what you can accomplish with your kids around. It's true that sometimes you can run into problems with workers who don't telecommute or necessarily understand telecommuting. They think you're not putting in as much as they are. But you've got to let your work speak for itself. I'm just as productive at home as I would be at work, but I'm much less stressed at home."
Ian Colle, 44
Ceph Program Manager at Inktank, a software development company
Golden, Colo.
"I have three small children. It's nice just being able to get them ready in the morning and get their lunches packed. I can just zip over to school and be back to work in not even 10 minutes. I used to commute at least 45 minutes each way. Now the biggest challenge is not overworking. Once you've established the relationship, it can be maintained easily with Skype and video conferencing. I think I'm more connected to colleagues because we're chatting throughout the day. We've hired programmers in Russia. It doesn't limit my candidate pool to a geographic location. But if my kids are fighting or having a hard day, I have to take time out and referee. I have solid Internet connectivity, but when it's down, I just go to a coffee shop and camp out there."
Before it's here, it's on the Bloomberg Terminal.
LEARN MORE