New BLS Data Show Gender Gap Growing in College Education
By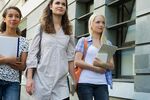 A report from the Bureau of Labor Statistics today says that young women have opened up a big lead over young men in education. By the October when they were 25 years old, 30 percent of women and just 22 percent of men had received a bachelor's degree, the government announced.
Women's schooling edge comes as no surprise to Thomas DiPrete and Claudia Buchmann, co-authors of The Rise of Women: The Growing Gender Gap in Education and What It Means for American Schools. Despite its title, the book is as much about the underperformance of men as it is about the outperformance of women.
I sat down recently with DiPrete, who's a sociology professor at Columbia University. (Buchmann is a sociology professor at Ohio State University.)
Here are some of DiPrete's key points:
— "Boys don't understand that school is like sports. You can't start playing the fall of your senior year in high school and expect to succeed."
— "It takes years of training to perform well in college."
— Unlike young women, many young men try to emulate their fathers or grandfathers, who succeeded in blue-collar jobs without college educations. But those jobs don't exist anymore. "It's the echo of an older generation."
— "Girls get gratification day to day from doing well in school. We're not as good at conveying the need for school to boys."
— Schools don't need "boy-specific" policies. Schools simply need to raise the quality of education for both boys and girls.
— Girls still lag in science, technology, engineering, and mathematics, but less so in the highest-quality schools.
— Likewise, boys are closer to girls in academic performance in the schools with the strongest academics.
There's a real cost to men's undereducation. DiPrete and Buchmann cite statistics that say men who don't graduate from college have lower incomes, a higher likelihood of being unemployed, worse health, and worse marriage prospects.
The most poignant part is that the men don't see it coming. Gallup asked young men aged 18-29: "Looking ahead, how likely is it that you will ever be rich?" Fifty-eight percent of them said it was somewhat or very likely.
Before it's here, it's on the Bloomberg Terminal.
LEARN MORE