How to Navigate the Dreaded MBA Wait List
Francesca Di Meglio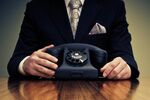 The wait list is like purgatory for MBA applicants. They haven't been dinged, but the school isn't rolling out the red carpet, either. And the nature of the wait list and the number of people who usually get off it at any particular B-school is quite mysterious.
The possibility of rejection has the current crop of wait-listed MBA wannabes buzzing with concern on the Bloomberg Businessweek Business School Forums about how to get off the dreaded list. And the schools themselves are anything but forthcoming: Of the top 30 MBA programs, six declined to share the total number of applicants put on the wait list and the number that were eventually admitted to the fall 2012 class, and 17 schools did not respond at all.
But there are a handful of top B-schools willing to share data and advice.
Southern Methodist's Cox School of Business admitted three of its 34 wait-listed applicants last fall, Vanderbilt University's Owen Graduate School of Management offered admission to 29 of the 94 on its list, and Cornell University's Johnson Graduate School of Management let in 40 of 470 wait-listed applicants. Harvard Business School declined to share the total number of applicants who were on the original list, but reported that it ultimately offered admission to 84 of the wait-listed. Similarly, Carnegie Mellon University's Tepper School of Business offered that it admitted 16 percent of those on its list.
It's hard to get into a school once you're on the wait list, but it's not impossible. Here are some suggestions from admissions committees on things you can do to help your cause:
Toot Your Horn
Most schools welcome updates from wait-listed applicants. Usually the school will send you a note explaining the best ways to stay in touch during this in-limbo period. Often you will be asked to e-mail updates about recent accomplishments, such as a promotion, additional extracurricular activities, or the grades you've received in courses you are taking to prepare you for the rigor of B-school, according to Alex Lawrence, assistant dean of MBA admissions and financial aid at UCLA's Anderson School of Management, which admitted 76 of 303 applicants on its 2012 wait list. "You haven't been denied," Lawrence says. "Just follow the guidelines we put forth. If you do what we tell you, then you'll be in better shape."
Avoid Being a Nag
Applicants are informed of their place on the wait list right as admissions directors enter their busy season, when they are interviewing and enrolling other applicants. The last thing anyone in admissions wants is to be inundated with phone calls or e-mails about one individual's case.
Visiting the admissions office unexpectedly or insisting on a one-on-one meeting about how to improve your chances could work against you, Lawrence says. Follow up when you first receive the letter to ask how you can make the application more competitive and then check in every three weeks until a decision is made, suggests Paula Wilson, director of MBA admissions at Georgia Tech's Scheller College of Business, which admitted seven of the 25 candidates on its 2012 wait list. "What might be worse than getting in touch too much is not contacting us at all," she says.
Don't Take Offense
Often applicants are appalled that the school wasn't willing to accept them immediately, Wilson says. You shouldn't give up on the program. "We don't put you on the wait list just to string you along," she says. "See it as an opportunity to make your application more compelling."
Join the discussion on the Bloomberg Businessweek Business School Forum, visit us on Facebook, and follow @BWbschools on Twitter.
Before it's here, it's on the Bloomberg Terminal.
LEARN MORE