Improving on Obama's 'Made in America' Mantra
James Dyson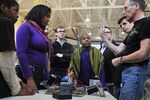 President Obama's call to make "Made in America" the next manufacturing mantra is impressive, but it's the wrong goal. Making products in today's economy, with multiple tiers of suppliers, a global supply chain, and a global market, complicates the matter. Rather, America should focus on "made" in its engineering sense: meaning conceived, designed, and developed, not simply assembled and manufactured.
If the U.S. can produce enough engineers and scientists to create new problem-solving inventions, where the manufacturing happens is less crucial. Look at the areas in the U.S. with companies that are granted the most patents—Silicon Valley, of course, but also Burlington, Vt., Boulder, Colo., and Corvallis, Ore. They have the strongest economies and the lowest unemployment; intellectual property propels economies.
But new ideas begin with education. At the moment, fewer than 5 percent of American college students graduate with engineering degrees, compared with 33 percent in China and 40 percent in Singapore. (We have a worse dearth in the U.K.: Only 2 percent of graduates are engineers, and we hold a similar desire to foster more manufacturing at home.) The U.S. must nurture home-grown talent with an educational system that promotes engineering in grade school with tactile experimentation and encouragement through trial and error to build things and solve problems. We must stoke their young ingenuity and guide them to pursue engineering in college, and then resist the lure of Wall Street upon graduation in favor of inventing true, exportable innovation.
In American schools, engineering is on its way to getting the status it deserves, but change is years away and not revolutionary enough. It's encouraging to see that the proposed Next Generation Science Standards will, for the first time, mandate the teaching of engineering—but only as a small part of a larger science curriculum. Engineering is an application not just of science, but also of math and art. It deserves to be treated as a standalone discipline, just like biology, chemistry, and physics. Engineering should be the fourth science in American education.
As it stands now, engineering is not given the time it needs to be taught properly. In fact, most engineering education takes place outside of the classroom, in after-school programs or clubs. This isn't enough—every child should have the opportunity to discover a passion for designing and making things. As states across the country grapple with just how to incorporate the subject, it is students, and ultimately the economy, that pay the price.
Children want to learn with their hands, as well as their brains. Learning how something works from a book isn't nearly as thrilling (or educational) as tearing it apart and trying to put it back together again. A common objection from many teachers is that they simply don't know how to teach engineering. We cannot expect students to learn engineering principles if we do not equip teachers with the necessary resources they need to teach them. Engineering education is an economic imperative—and calls for talented teachers, proper teacher training, and support from industry and universities.
President Obama has pledged to reward schools that develop partnerships with colleges and employers in teaching STEM subjects. Schools struggling with how to incorporate engineering should rely on teaching tools that already exist. Young Makers, FIRST Robotics, Destination Imagination, and my own foundation—the James Dyson Foundation—all have resources at the ready to help shape a robust engineering curriculum.
Teaching engineering in grade school will lead to more students taking it up at university. Here, partnerships with industry are key. I've seen it work in the U.K. Funded by Dyson, the London Royal College of Art opened 40 business incubators for young engineers and designers to cultivate their ideas. Student's creative ventures are given working space, industry mentors and access to angel investors to help commercialize their ideas. So far the startups are enjoying success rates unimaginable to venture capitalists and are creating jobs and exporting to the world—a £5 million investment that will lead to millions more in new ideas.
When it comes to global competitiveness, ideas are king. With more engineers, we'll get more intellectual property. IP is an idea made valuable; it fuels economic growth.
America is understandably anxious about its status as a manufacturing superpower. "Made in America" will tug at heartstrings. But America should invest its energy in education reform to ensure its current and future status as a superpower for ideas. What's needed is for engineering to take its rightful place in the school day—the fourth science that will unlock innovation in the U.S. After all, we need the creative minds that will invent the products and machines for America to make—and for the country to profit.
Before it's here, it's on the Bloomberg Terminal.
LEARN MORE