Think and Do; Think and Not Do
by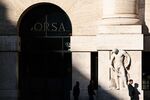 The battle between risk-off Europe and risk-on U.S. makes for choppy markets, and it's 50-50 in my inbox between people who think the Italian election is just another chance to load up on risk, given the Fed's stance, and those who think the markets are about to get a whole load worse. I'm a simple soul, and I'd rather trade the enormous U.S./European contrast.
— Kit Juckes, Oceans Separate the U.S. from Europe …, Société Générale, Feb. 27, 2013
U.S. high yield is becoming a bubble. The signs are clear: low valuations, use of leverage for M&A and LBO activity, reemergence of risky instruments like PIKs or cov-lite bonds. Our new JBI-Junk Bubble Indicator shows that U.S. credit is overvalued and approaching bubble-like conditions.
— Alberto Gallo, High Yield: Buy in Europe, Bubble in U.S., RBS Marketplace, Feb. 27, 2013
Stop now, and think.
There are several nuances within the above two opinions. Juckes, he of the recent three-week vacation upon the slopes of Europe, looks larger and more holistically at the Great Atlantic Divide.
Gallo, he of my best post-Italian election research note, goes narrow and discovers a bubble here, not there.
Italian election, sequestration, Apple's cash, strong yen, Syria, the Red Sox middle relief, Australian deflation. And, on and on.
Juckes & Gallo give opinion. I do not.
I respectfully suggest we tread neither boldly nor lightly. At this time, this Italian time, it is especially important to read many, many diverse opinions and look for white smoke. Read, watch, and listen; consider, measure, and think.
Think.
It is a time to think and do; it is a time to think and not do. Discuss.
Before it's here, it's on the Bloomberg Terminal.
LEARN MORE