pursuits
Steakhouses Still Love Corporate Expense Accounts
By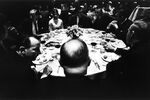 In its recent annual report, Del Frisco's—the owner of Del Frisco's, Del Frisco's Grille, and Sullivan's Steakhouse—flagged an unusual risk: Corporate cost-cutting could threaten the employee expense account and, by extension, Del Frisco's bottom line.
According to the filing (PDF): "We believe the majority of our weekday revenues are derived from business customers using expense accounts. Our business therefore may be affected by reduced expense account or other business-related dining by our business clientele."
This crowd is also the bread and butter, apparently, at the Capital Grille. "Business professionals are a significant part of our core guest base," said John Martin, president of the Capital Grille, in an e-mail.
They're big spenders, too. At the Capital Grille, for instance, the average bill on the company card was $364.55 during the last 12 months, expense report software company Certify.com tells Businessweek.com. Based on 23,510 receipts from steakhouse establishments, including chains like Outback Steakhouse and Texas Roadhouse, the average bill was $50.22. By contrast, Certify found employees only spend an average $19.12 at Panera Bread.
As long as the economy stays in recovery, it shouldn't be a problem. But economic weakness or political uncertainty could hurt sales—including from business customers, Del Frisco's worries. Losing them would mean an overall reduction in customer traffic or average revenue per customer, metrics that matter to big investors.
There are alternatives if expense accounts dry up. Take the romantic diner, for instance. Del Frisco's Chief Executive Officer Mark Mednansky said during a recent earnings call that "Valentine's week makes up a big percentage of sales for the quarter." If only the holiday occurred as often as earnings reports.
Before it's here, it's on the Bloomberg Terminal.
LEARN MORE