North Korea to Offer Foreigners Uncensored Mobile-Phone Internet
Sangwon Yoon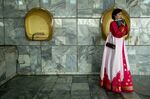 North Korea's sole mobile-network operator will offer uncensored third-generation services for foreigners working or visiting the totalitarian state, Orascom Telecom Media and Technology Holding SAE said.
Kim Jong Un's regime has issued new policies to "avail foreigners with easier means of communications with the outside world," Orascom Telecom spokeswoman Manal Abdel-Hamid said in a Feb. 25 e-mail. The government a few weeks ago decided to let foreigners use their own cellular phones with local SIM cards, she said, without specifying when the 3G network will be active.
North Korean users aren't allowed to use the unfiltered wireless Internet service, as they are "governed by a separate set of telecommunication rules," Abdel-Hamid said. They will have access to certain 3G services, including text and multimedia messaging, video calls and subscriptions to the state-run Rodong Sinmun newspaper, she said.
The Cairo-based Orascom holds a 75 percent stake in Koryolink, North Korea's only mobile-services provider, and obtained an exclusive 25-year mobile phone license in December 2008. Koryolink reported 1.51 million subscribers in North Korea as of the third quarter of last year, according to Abdel-Hamid.
Before it's here, it's on the Bloomberg Terminal.
LEARN MORE