MBA Job Search Fatigue? Take a Timeout
Roxanne Hori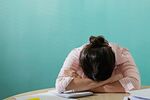 This time of year is tough for many MBA students. First-year job seekers may be feeling great relief and joy at having accepted a summer internship or despondent because they haven't yet secured an opportunity.
My coaching advice to those students who are still searching for the right internship at this time of year is to take a "timeout" from the job search. It's like training for a race. You don't always work at the same pace during your preparation. You have rest periods, which help your muscles regenerate so you can push hard again in your training. The same holds true for the job search. It's difficult to sustain the same level of effort throughout the job search process, so if you have been working hard on your campus interviews, it may be time to take a break.
What I never want to see is a student experience job search fatigue to the point where he or she becomes ineffective. Taking time off from the search is a healthy thing to do. Use this time to refocus on your studies, friends, or family. Taking a week off from the job search is not going to put you behind. If it makes you feel better, allocate a little bit of time each week to review job postings on your school's job board and apply to those that seem like a good fit.
I saw an alumnus last week who reminded me that I once told him, "The best jobs come later in the school year." And for this particular alumnus, that mantra held true. Toward the end of the school year, he wound up with a great strategy role at a major New York company. For those of you still seeking a summer internship, don't worry. It will happen.
Last week I also had the privilege of hearing a talk by Richard Kramlich, co-founder and chairman of New Enterprise Associates (NEA). He said something that is applicable to all job seekers: "Struggle is often a benefit." Remember, once you complete your job search, you will realize just how much you've learned along the way.
Before it's here, it's on the Bloomberg Terminal.
LEARN MORE