pursuits
By the Numbers: Fung Wah's 'Chinatown' Buses
David Wescott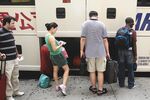 On Monday, the Fung Wah bus company, the notoriously dirt-cheap shuttle service known for carrying shallow-pocketed passengers between Boston and New York since the late 1990s, was ordered to park its service. The company's fleet, colloquially referred to as the "Chinatown buses," have been deemed too unsafe for the road by federal officials. (In fact, the buses were slapped with the label: "imminent hazard.") To illustrate the full extant of Fung Wah's troubled, rattletrap operation, here's a brief history, by the numbers:
1997: When Fung Wah started operating between New York and Boston.
$15: Amount Fung Wah charged for tickets between New York and Boston, as of this week.
34: Passengers injured in 2006 when a Boston-bound bus rolled over while driving through Massachusetts. According to the police, "It appears the bus was probably traveling too fast for the off-ramp."
$31,000: Amount Fung Wah was fined for said 2006 rollover incident.
28: Motor coaches in the Fung Wah fleet, all of which are currently suspended.
159: Fung Wah maintenance violations in the past two years (as registered by the Massachusetts Department of Public Utilities).
23: Safety violations related to cracked, loose, or broken frames over the past two years, according to the Federal Motor Carrier Safety Administration.
6: Times Fung Wah drivers have been cited for failure to speak English or to produce a commercial driver's license.
Bottom 3%: Ranking of Fung Wah drivers in experience and training among nationwide coach companies.
10: Minutes allocated in the Fung Wah schedule for a rest stop. "If a passenger is abandoned," the company website reassured, "Fung Wah Bus will make every effort to find alternative transportation."
2: Number of pedestrians run over by a Fung Wah bus in an incident last month at the Chinatown Manhattan Bridge entrance. No one died.
1: Death as a result of a 2008 collision between a dump truck and a Fung Wah bus in Chinatown.
Before it's here, it's on the Bloomberg Terminal.
LEARN MORE