Bean Says U.K. Inflation-Target Framework Should Face Review
Scott Hamilton and Svenja O'Donnell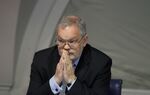 Bank of England Deputy Governor Charles Bean said it may be appropriate to review the U.K.'s inflation-targeting regime, and that policy makers stand ready to take further measures to boost the recovery if required.
"I think it is sensible to review the framework to assess whether it is fit for purpose or can be materially improved," Bean said in a speech in London today. Still, "the hurdle for change should be high."
With BOE Governor-designate Mark Carney having raised the topic of the potential limits of inflation targeting, Bean said the current U.K. framework is already flexible and incorporates growth and employment. His comments echo those of fellow policy makers Paul Tucker and Ian McCafferty, who have said the BOE's remit allows it to look through temporary inflation surges to ensure stable output.
Bean said a discussion on the Monetary Policy Committee on potential new measures to aid the economy "was quite deliberately blue skies thinking," and there were no current steps being taken to cut rates below zero. Tucker said yesterday he has raised the topic of negative interest rates at MPC meetings, though he said any such move would be "extraordinary."
"Any suggestion that we have a plan to introduce negative interest rates immediately, I should make absolutely clear, is not the case," Bean said in response to audience questions today. "The message to savers is we want to get policy back into more normal territory but we can only do that once the economy is in a better position."
Policy Danger
King and two other policy makers were defeated in a push for more quantitative easing this month as the MPC debated a wide array of measures from cutting interest rates to expanding the range of assets purchased. The BOE's benchmark rate is currently at a record-low 0.5 percent.
Speaking at the Institute for Economic Affairs' State of the Economy conference, Bean said while the central bank is ready to add more stimulus, there is "a danger of expecting too much" from monetary policy.
"We stand ready to take further such action should it be warranted," the deputy governor said. "But such policies cannot -- and should not seek to -- prevent the necessary deleveraging and rebalancing. That is a real process that takes time and means that the recovery is likely to remain somewhat subdued by historical standards."
At 2.7 percent in January, inflation is above the Bank of England's 2 percent goal and forecast to remain there for another two years. Gross domestic product dropped 0.3 percent in the fourth quarter, according to a second estimate released today.
Bean said in his speech that while a switch to targeting nominal-income growth wouldn't be "a major change," there were drawbacks, including historic revisions to output data and the risk that the public would not understand what policy was trying to achieve. He added that an income-level target may keep policy too loose for too long, risking asset bubbles.
Before it's here, it's on the Bloomberg Terminal.
LEARN MORE