At Apple's Annual Meeting, David Einhorn Looms Large
by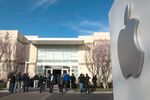 At today's annual meeting of Apple shareholders, the biggest presence in the room, for the second year in a row, might have been a man who wasn't there.
This time it's not the late Steve Jobs; it's hedge fund manager David Einhorn who looms larger than Chief Executive Officer Tim Cook and the Apple executives defending the company's 36 percent decline in stock price since Sept. 19, when it hit its all-time high. Einhorn's Greenlight Capital has been battling Apple to force it to return more of its $137.1 billion cash pile to shareholders, and the pace is picking up. His latest proposal, outlined Feb. 21, is for Apple to issue a new kind of preferred stock that Greenlight calls "iPrefs," and the following day he won a court ruling that forced Apple to cancel a related vote that was scheduled to take place at Wednesday's meeting.
This is the stuff of drama at shareholder assemblies, which are typically dull affairs, with pro forma reelections of board members and votes on governance issues that nearly always tilt in whichever direction the company suggests. Apple investors are still overwhelmingly supportive of the company's executives—Cook won a 99.1 percent approval rating on an early ballot—but they are displeased with its recent stock market performance. Absent the unveiling of a breakthrough product, Apple's cash is the most obvious place to look to boost its share price. Even shareholders who disagree with the "iPrefs" proposal have applauded Einhorn for aggressively pushing Apple, Bloomberg News reported. "It took a pretty extreme action to get the company's attention," Keith Goddard, president of Apple shareholder Capital Advisors, said.
Some investors distanced themselves from Einhorn. "We appreciate Mr. Einhorn's ideas re: capital allocation," the California Public Employees' Retirement System tweeted after the event, "but the issuance of new shares should be a matter for all shareholders, not just one."
Einhorn is far from the first Wall Street figure to tell Apple it can do more with its cash than sit on it, but he is the one with the biggest microphone. A boyish, impeccably prepared presence at investor conferences, Einhorn has a singular ability to sink a stock just by uttering its name. His bearish calls on Lehman Brothers, Allied Capital, and Green Mountain Coffee Roasters are the stuff of hedge fund legend, and his long bets, though lesser known, have paid off handsomely too. Einhorn's agitations on Apple have gotten results. An open letter Greenlight posted on its website Feb. 7 drew a response from Apple, once a close-mouthed outfit that has become more communicative during Cook's tenure.
During a Q&A session toward the end of the shareholder meeting, Cook was asked if he continued to think—as he suggested at a recent Goldman Sachs event—that Einhorn's lawsuit was "silly." His answer: "I absolutely do."
The company, Cook said, was in "very, very active" discussions on what it will ultimately do with its cash. Shares fell.
While Einhorn remains a pain in his side, Cook can take comfort in this: Even with Apple's decline in the final quarter of 2012, the stock still posted a 29.4 percent gain during the calendar year. That's a better performance than investors could have realized with many other securities and funds—including if they'd put their money with David Einhorn's Greenlight Capital.
Before it's here, it's on the Bloomberg Terminal.
LEARN MORE