Why Italy's Election Doesn't Signal a Euro Rout (Yet)
By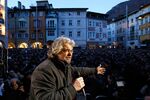 For three years, euro-zone governments have managed to dodge the blows of political opponents trying to derail their efforts to maintain fiscal austerity.
Their foes have finally landed a solid punch. Voting in parliamentary elections on Feb. 24 and 25, recession-fatigued Italians threw their government into disarray by rallying behind politicians who promised to reverse the austerity program of outgoing Prime Minister Mario Monti. The top-polling party, led by former comedian Beppe Grillo, promised not only to roll back Monti's efforts but also to hold a referendum on Italy's membership in the euro currency bloc. The vote left Parliament effectively deadlocked, which may lead to new elections.
The vote "is not just a kick in the teeth for Mr. Monti," says Nicholas Spiro, managing director of Spiro Sovereign Strategy in London. "It's also one for Berlin, Brussels, and Frankfurt." The euro zone's crisis-fighting effort has been spearheaded by the German government, the European Union, and the European Central Bank.
Investors are clearly uneasy. As markets opened today, credit-default swaps on Italian bonds jumped to their highest level since 2011. Spanish and Portuguese bonds also slumped, reflecting fears that political turmoil could spread to other sickly economies. By most measures Spain is a lot worse off than Italy, with unemployment at 26 percent and the economy mired in recession.
Could another European government soon fall victim to an anti-austerity backlash? It looks unlikely. No other euro-zone country has national elections scheduled this year, except pro-austerity Germany, which votes in September. Moreover, anti-austerity movements have fallen short in recent elections.  Greece's left-wing Syriza party, after an early campaign surge, lost in elections last May. This month voters in Cyprus chose a president who wants the country to accept a European Union bailout tied to tough fiscal conditions. French President François Hollande campaigned last year on an anti-austerity platform, but he's now raising taxes and cutting spending to plug a worrisome budget deficit.
In Spain support for the ruling conservative party has plummeted as Prime Minister Mariano Rajoy has implemented painful budget cuts. But Rajoy's party holds a majority in Parliament, and the opposition Socialists are equally unpopular. Most anti-austerity politicking in Spain has been led by regional splinter groups such as the Convergence and Union party in Catalonia.
Even if anti-austerity parties are picking up support, "We're not going to wake up overnight and see some of these parties come out of nowhere with a majority," says Tina Fordham, senior global political analyst at Citigroup in London. "Their rise will be gradual and incremental. They are influencing the debate and chipping away at majorities."
In Spain, for example, recent polls show that combined support for the two mainstream parties is below 50 percent, with anti-establishment parties picking up the rest. "The fact that these new parties, extreme parties, are becoming a bigger force in domestic policy is not sitting well with the markets," says Michael Leister, an analyst at Commerzbank in London.
Austerity fatigue is rising not only in Southern Europe, but in countries such as Germany and the Netherlands, where voters are none too happy footing the bill to bail out their neighbors. Still, opponents haven't gained enough traction to pose a serious threat to mainstream parties.
The vote in Italy is a reminder that Europe "is far from out of the woods," Richard Wiltshire of ETX Capital in London said in a note to clients. "The optimism towards the single currency of early January," he wrote, "seems a lifetime ago all of a sudden."
Before it's here, it's on the Bloomberg Terminal.
LEARN MORE