Undergrad Advising Program Adds Flexibility at Wharton
Francesca Di Meglio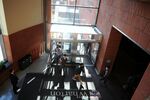 Last spring, administrators at the University of Pennsylvania's Wharton School launched an advising program called Alternative Pathways as a way to show students they could craft their course schedules—even as early as sophomore year—to get a jump start on their careers. Now, nearly a year after its implementation, the school is beginning to see positive results via increased human connections between students and their academic advisers.
In the past, most students would take core business courses in a uniform order during freshman and sophomore years. "This created a lot of stress and pressure to go through the curriculum in only one way," says Scott Romeika, director of academic affairs and advising at the Wharton undergraduate division.
Through the Alternative Pathways program, advisors now help students craft course schedules with greater flexibility. In one-on-one advising sessions, undergrads are asked questions about career goals. Then the advisors help to determine the steps necessary to achieve whatever it is the student is aiming for, Romeika says. Ultimately they begin to put together a personalized academic road map for each student.
Undergraduates interested in finance, for instance, can put off the marketing core course and instead take finance courses earlier, which will allow them to show demonstrable skills in their field of interest as they apply for internships. The program allows students an opportunity to test career waters sooner so they have time to make changes in plan and direction before graduation, says Romeika.
While students still must eventually complete the core classes, they can tailor the menu of courses to better fit their needs, Romeika says. The human connection between students and advisers—and the realization that there is no cookie-cutter approach—are the biggest benefits to students, he says. "Students," adds Romeika, "have seen it as an eye-opener."
Join the discussion on the Bloomberg Businessweek Business School Forum, visit us on Facebook, and follow @BWbschools on Twitter.
Before it's here, it's on the Bloomberg Terminal.
LEARN MORE