In-App Buying: Don't Let Your Kids Make Apple Rich
by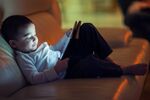 Apple's agreement to settle a class-action suit regarding in-app purchases and patronage by kids will bring sighs of relief to many parents.
As the parent of two children (one is six and fully capable of wreaking digital havoc; the two-year-old is still fairly harmless), I can sympathize with the plaintiffs: Their argument is that certain kid-friendly apps had in-app purchases available that the parents didn't know about. Nobody thought twice about letting little Timmy or Trisha play with Funwords Deluxe (an app I just made up, but you know what I mean). Little did they know that after they downloaded it for $1.99 and left kids alone with it, the game would offer options to open new levels for 99¢ a pop. Just click here and payment will be automatically sent to the credit card on file with iTunes. So easy!
Apple will refund money to those families whose finances were rattled by excessive in-app purchasing. Kind of reminds me of when kids would call 1-900 numbers and rack up exorbitant charges on the family phone bill because of all the "entertainment services" they were calling.
So I've been told.
All parents can take steps to avoid such a fate: If you have an iPhone or iPad, go into Settings, then into General, then Restrictions. Enable restrictions (you'll have to create a PIN so Timmy can't undo your handiwork) and then turn off  In-App Purchases under the Allowed Content heading. You can also adjust further parameters, such as whether your kids can have access to iTunes, the camera, or the Safari Web browser.
Then you can let Timmy or Trisha tap away to their hearts' content as you relax in the knowledge that your wallet isn't dangling from one of the levels they can unlock.
Before it's here, it's on the Bloomberg Terminal.
LEARN MORE