pursuits
Chinese Officials Behaving Badly, Airport-Rage Edition
Christina Larson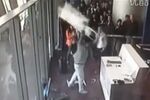 Travel is stressful. But if you ever narrowly miss a flight and are tempted to start kicking furniture—and ripping computers off desks and attempting to break down terminal doors, using a folding chair as a battering ram—remember the cautionary tale of the Chinese official who did just that. It didn't end well.
Yan Linkun's rage was recorded by CCTV cameras at Changshui Airport in the southwestern city of Kunming. The video circulated widely through Chinese social media. Viewers in his home province of Yunnan identified Yan as vice chairman of Yunnan Mining Company and an adviser to the national political organ, the Chinese People's Political Consultative Conference (CPPCC). On Feb. 23, Yan apologized to the airport's deputy general manager and local Communist Party organs are now investigating possible disciplinary measures, state media reported.
Tales of Chinese officials misbehaving are popular on Weibo, China's Twitter, from exposes of cadres flaunting luxury goods to revelations of serial mistress-keepers. But rarely are instances of official temper tantrums captured on video in such spectacular fashion.
The display of airport rage touches a special nerve in China because of the popular perception that many officials are ensconced in privilege and out-of-touch with the constraints facing most ordinary citizens—from simple financial limitations to the discipline not to pick fights with airport staff. Cynicism about China's local leaders is rife on Weibo, which is used primarily by educated urban Chinese. Among the comments posted in response to the airport video: "Every time China loudly praises its system for picking leaders, there will be a stupid man slapping people on tape." Another: "This makes me suspect more and more that all the CPPCC and NPC [National People's Congress] members are trash."
A previous instance of a passenger outburst at the same airport was handled with pepper spray. Whether or not the airport crew knew of Yan's political connections, the relative kid glove treatment he received also drew scrutiny: "Brother security, what are you doing just standing there?" one Weibo poster wrote. Another chimed in: "If he [Yan] smashes things and his job is suspended, he'll just have a salaried holiday." And another, sarcastically: "Such a hero. He should be sent to Diaoyu Islands"—a current flashpoint in the East China Sea, as the territory is contested by Japan and China.
On March 5, the much-anticipated meeting of the NPC and CPPCC—at which Xi Jinping will officially become the new president of China—will open in Beijing. Among the issues Xi has pledged to address are rampant corruption in the Communist Party and the growing chasm between China's haves and have-nots. Seething popular resentment at both aspects of modern Chinese life is evident in reactions to the airport video, as well as other news of bad behavior by privileged official families. The son of a senior official in the People's Liberation Army is suspected of participating in the gang rape of a young woman in Beijing on Feb. 17, according to the South China Morning Post. In 2010 the son of a local public security bureau's deputy director struck two university students while driving drunk, killing one and severely injuring the other. When campus police arrived, he blurted out, as though in expectation of immunity, "My father is Li Gang!" A common complaint in China is that officials and their offspring seem to believe they can act above the law.
At least Yan offered an apology. On Saturday he posed for a ceremonial goodwill handshake with the airport's deputy general manager.
Before it's here, it's on the Bloomberg Terminal.
LEARN MORE