The Italian Elections Could End in a Hung Parliament
By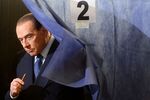 Italian voters look to have handed investors what they dreaded most: gridlock. As two days of parliamentary voting ended on Monday, exit polls suggested that former Premier Silvio Berlusconi's forces had picked up enough Senate seats to block Pier Luigi Bersani's center-left coalition from maintaining the budgetary rigor of outgoing Premier Mario Monti.
Surveys released in late afternoon showed that while Bersani would get a majority in the legislature's lower house, Berlusconi's anti-austerity bloc would likely win more than 31 percent of Senate seats, slightly ahead of Bersani. Stefano Fassina, Bersani's chief economic adviser, told the RAI television network that new elections might be necessary. Projected results "suggest there will be no stable government," he said.
"A hung parliament would be a guarantee of stillness," analyst Annalisa Piazza of Newedge Group in London, said in an e-mail. "Such a scenario would be the worst-case outlook."
Italian stocks and bonds, which had rallied early Monday on hopes that Bersani would control both houses of parliament, plunged on news of Berlusconi's strong showing in the Senate. The euro currency erased early gains against the dollar, as markets worldwide anxiously awaited a final vote tally, which may not come until tomorrow. "The more the results come in, the more the fear grows that Italy will become ungovernable," John Plassard, vice president at Mirabaud Securities in Geneva, told Bloomberg News. Berlusconi is "not pro-European and could stop or delay the ongoing reforms," he said.
Austerity and reform measures instituted by Monti have narrowed Italy's budget deficit and helped lower its borrowing costs from record highs reached under Berlusconi's former government. But Italians are growing weary of belt-tightening, with the economy forecast to shrink 1 percent this year after a 2.2 percent contraction in 2012. Both Berlusconi and Beppe Grillo, a former comedian, ran populist campaigns promising to overturn Monti's legacy.
Besides throwing Italy into chaos, a hung parliament could weaken the European Union's embrace of budgetary rigor, as championed by German Chancellor Angela Merkel. "This possible outcome would have very heavy consequences for Italy at the European level," Enrico Letta, deputy head of Bersani's Democratic Party, said on the RAI 3 television network. "More than half of Italians expressed a vote against austerity, against the euro, against Merkel."
Before it's here, it's on the Bloomberg Terminal.
LEARN MORE