The Former Project Manager Turned Sand Castle Builder
Eric Spitznagel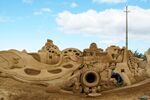 During the late 1990s, Kirk Rademaker felt like his life was falling apart. He was a project manager for Mueller Nicholls, a construction company in West Oakland, Calif. The stresses of his job, which involved coordinating between architects, contractors, and clients, were proving too much for him. "You're like an hourglass, and all the information goes through your head," he remembers. "Everybody's looking at you for answers." On top of that, he was going through a divorce, which made him less focused at work. "I was spending $90 an hour to see a therapist," he says. "And all he told me was that I had textbook depression."
Rademaker began taking regular trips to nearby Stinson Beach to gaze at the ocean and build sand castles. "It was very healing and therapeutic," he says. "I didn't have to think about all the responsibilities that felt like they were crashing down on me. I was just being creative." He soon discovered he had a talent for it—learning how to create extravagant sand sculptures that could tower as high as 10 feet—and began competing in sand castle competitions across the Bay Area. His new hobby didn't always sit well with his employers. "When a contractor calls up and wants to talk to me because there's a problem on the job," Rademaker says, "they don't want to hear, 'Oh, he's off building sand castles.' It didn't exactly inspire confidence."
Then his girlfriend at the time, a fellow sand sculptor who goes by the professional name Sandy Feet, called and invited him to a sand castle competition in Italy. "I was juggling four projects at Mueller Nicholls, and people were already upset with me for taking too much time off," he says. "So I told her no, I couldn't join her. I hung up the phone and looked out the windows in my office, at the oil-stained asphalt streets of Oakland. And I thought, My god, what did I just do?" It was at that moment, he says, when he decided he would quit his job and devote himself full-time to building sand castles.
It took almost a decade before Rademaker, now 61, started earning an income comparable to his tenure as a project manager. Today he lives in Santa Cruz, Calif., and runs Sand Guys International, a professional sand sculpture company he co-founded in 2009 with Rusty Croft. His sand art doesn't come cheap. Typical costs are "$100 an hour or $1,000 a day," he says. "It really depends on who the client is." His clients, hard-won after years of proving himself on the sand castle circuit, include Apple, Google, Yahoo!, Facebook, and George Lucas's Industrial Light & Magic, which has hired him for everything from corporate theme parties to promotional events. He travels regularly across the globe, creating sand sculptures in such places as Turkey, Portugal, Spain, Thailand, and New Zealand. He and Croft recently signed an endorsement deal with Ocean Potion sunscreen. "We're going on the road for them," he says. "I'm pretty sure we're the first sand carvers to ever get a product endorsement."
Although he's busier than ever, Rademaker insists that stress is now a distant memory for him. He loves everything about his job, including the disposability of his creations. "People ask me all the time, 'Don't you want to do something permanent?'" Rademaker bursts into laughter. "Now why would I want to do that?"
Before it's here, it's on the Bloomberg Terminal.
LEARN MORE