Singapore's January Inflation Slows More Than Estimated on Food
Sharon Chen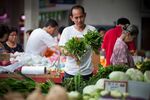 Singapore's inflation slowed more than economists estimated in January as gains in food and housing costs eased.
The consumer price index rose 3.6 percent from a year earlier, after climbing 4.3 percent in December, the Department of Statistics said in a statement today. The median estimate of 16 economists in a Bloomberg News survey was 4 percent.
The city-state's policy makers have sought to contain price gains by allowing a gradual appreciation in the currency and introducing property-cooling measures. Overall inflation will remain elevated, with month-to-month fluctuations as a result of car prices and home rentals, the central bank and Trade Ministry said today.
Today's figure "will probably not be enough for the Monetary Authority of Singapore to change its current exchange-rate stance," Michael Wan, a Singapore-based economist at Credit Suisse Group AG, said before the report. "The labor market is still extremely tight, and I think the MAS cannot afford to change its stance, in order to anchor inflation expectations."
Singapore's economy grew at the slowest pace in three years in 2012 in part as companies faced manpower shortages and higher labor costs amid a clampdown on foreign workers. The jobless rate fell to a five-year low last quarter as companies hired more local workers.
The Singapore dollar fell 0.1 percent to S$1.2390 against the U.S. currency as of 12:43 p.m. local time. It gained about 6 percent last year, and reached a record in October after the central bank's policy decision.
The Monetary Authority of Singapore is maintaining its inflation forecast for 2013 at 3.5 percent to 4.5 percent, Edward Robinson, assistant managing director of the economic policy department, said last week. Price gains averaged 4.6 percent last year.
"Given the subdued conditions in the global economy, imported inflation will be broadly benign," the central bank and Trade Ministry said today. "However, the persistent tightness in the domestic labor market will support wage increases in 2013, some of which will continue to pass through to consumer prices."
Consumer prices rose 0.2 percent last month from December, today's report showed. The January core inflation rate was 1.2 percent.
Before it's here, it's on the Bloomberg Terminal.
LEARN MORE