MBA Journal: The International Internship Dilemma
Cathy Mae Favorito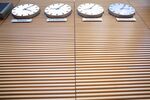 As the holidays became a distant memory, my fellow classmates at Notre Dame's Mendoza College of Business and I started to feel the pressure of finding a summer internship. Second-year students warned us not to hit the panic button, even if we were still sans internship in December. I took this to mean to take things at my own pace. But I'm starting to think that was a bad idea.

International students, like me, who want to work in the U.S. after graduation usually take the internship search more seriously. It's more than a training period, more than an experimental phase where you judge whether a role or industry is the right fit for you. For us, it's a chance to show potential employers that we can do the full-time job, and that our skills and contributions are worth future H-1B sponsorship. For us, the internship search is a search for the next job and the next company to join (unless we decide to form our own company). This means that it's more advantageous for us internationals if we already have a pretty good idea of where we're headed in terms of our careers at this point in the program.
The fact that not all our dream companies sponsor MBA international students for H-1Bs makes it harder for us to find the right fit. I had landed an interview at one of the big career expos, but I was told at the end that the company did not sponsor H-1Bs for its supply chain full-time positions. See, even the companies look at interns as potential new hires, and view internships as probationary periods. It makes it harder for students who are at the exploratory stage of their career, and who are not even sure where they want to go and what they want to do next. As for that particular interview, I don't know why I was even considered in the first place when I was upfront about my status when I presented my résumé back at the company booth.
It's discouraging when a lot of companies that you aspired to join back in your home country won't even consider internationals for U.S.-based roles. You go to career treks and expos, talk to recruiters and hiring managers, and the door is slammed in your face: "Positions open to U.S. citizens, U.S. nationals, and permanent residents." Sometimes there's a sign at the booth saying the same thing, subtly telling internationals not to even bother approaching.
Back in orientation, we internationals were told that it isn't impossible to find exceptions to such company policy. I guess that happens but it's just easier to enter a company with wide, swinging doors than one with bolts and shutters. Why make it even harder for yourself?
Not all internationals want to spend the rest of their lives in the U.S., but there's no denying that work experience stateside is valuable, especially in the countries from which we come. Having studied in the U.S. is quite an accomplishment, but having studied and worked here is a much bigger deal.
Between journal entries, you can keep track of Cathy's business school adventures at the Business Schools Facebook page. Follow the Bloomberg Businessweek B-Schools team on Twitter.
Before it's here, it's on the Bloomberg Terminal.
LEARN MORE