'Made in the USA' Still Matters
Harold L. Sirkin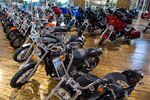 A friend of mine was in New York before Christmas for two days of client meetings. Three of the people he met with flew in from Hong Kong, another from Seoul, two others from Bermuda. Several of them brought empty suitcases so they could return with gifts.
They weren't just shopping for high-end luxury goods. One attorney, a Hong Kong native, showed my friend some socks he bought for his mother. He was quite pleased with himself.
What the visitors all had in common was that they wanted products "Made in the USA." That's what matters to them.
As Americans bemoan the slow recovery and wallow in economic uncertainty, they continue to overlook the immense branding power and cachet of "Made in the USA" goods.
To most of the world, "Made in the USA" still means something special: quality, dependability, safety, reliability—products that feature the most advanced technologies and the hippest styles. Buy these products, and you too can share in the American dream.
Consider one of America's most iconic brands: Harley-Davidson. While dozens of motorcycle brands are available to consumers around the world, there is still only one Harley. And many consumers—in Europe, Latin America, and now even China, where there were 13 Harley-Davidson dealerships at last count—will pay a significant premium to own a "Hog." The same holds true for many other American-made products.
As Ro Khanna, a former deputy assistant secretary of commerce in the Obama administration, said recently: "Products made here have a huge cachet overseas." The words Made in the USA, he said, represent "the highest possible standards."
Today, few executives would be surprised by the fact that some 80 percent of Americans, according to a recent survey by my colleague Kate Manfred and others at BCG's Center for Consumer & Customer Insight, will pay more for products labeled Made in the USA. They may be surprised, however, to learn that 60 percent of Chinese consumers also are willing to pay more for products labeled Made in the USA—as much as 80 percent more, in some cases, according to the BCG survey.
In fact, more than half the Chinese consumers BCG talked to said they had purchased a more expensive, American-made product over a less expensive Chinese product in the month before the survey. Nearly 50 percent said they preferred U.S.-made goods over Chinese-made goods of equivalent price and quality.
With the Chinese consumer market expected to grow to more than $6 trillion per year by 2020, these are extraordinarily important insights.
America's best brand is America itself. This was true after World War II, when Europe and Japan were in the process of rebuilding. And it's just as true today, as hundreds of millions of middle-class Chinese and Indian consumers seek a better life.
Before it's here, it's on the Bloomberg Terminal.
LEARN MORE