Is a Beppe Grillo Awaiting France?
By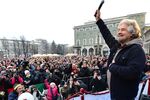 Grillo's platform includes left-wing social spending (he wants free Internet for all, free tablets for children, and a 20-hour work week), increased environmental regulation, anti-corruption rhetoric, and middle-class tax cuts. So far, so sympatico with the left-leaning Democratic Party.
But Grillo also wants to suspend interest payments on Italian debt, and to hold a referendum on euro membership. That could antagonize E.U. officials who are trying to pressure Italy to get its debt in order without leaving the currency union.
—Dylan Matthews, "Everything You Need to Know about Italy's Messed-up Elections," WonkBlog, Washington Post, Feb. 25, 2013
"Grillo" is Beppe Grillo. Giuseppe Piero Grillo is someone we need to get to know. (Once more, the elites can elite all they want. At some point, the people vote.)
I would suggest a glance at Grillo's Wikipedia page. I have truly never seen anything quite like it.
After his seismic impact on the Italian elections and—by direct inference—the Italian people, I would suggest pages and articles and essays and books will be written on comedian Grillo. I have never seen anything quite like it.
Grillo has moved the markets. Call it a "Flight from Comedy."
Yen strength, gold advances, and, yes, I have seen these size moves. But attached in part to a primal scream for a 20-hour work week? I have never seen anything like it.
His 20-hour Italy signals the 35-hour France as hard-working.
Wait a minute. Is there a Beppe Grillo awaiting France? Discuss.
Before it's here, it's on the Bloomberg Terminal.
LEARN MORE