In Britain, a Credit Downgrade That Actually Matters
By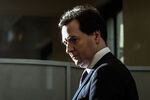 Why should anyone care about Britain losing its AAA rating? Markets have largely shrugged off a sovereign debt downgrade announced late on Feb. 22 by Moody's Investors Service, and government leaders are pooh-poohing it as well. Ratings agencies "have a very bad record, they're a bit like tipsters," Business Secretary Vince Cable told the BBC. Indeed, borrowing costs for the U.S. and France have declined since their ratings were lowered in 2011 and 2012, respectively.
Politically, though, the downgrade matters a lot. "It will be a major political blow to the government, which had hoped to establish a narrative for the 2015 general election of having brought the U.K. back from the fiscal danger zone and on the route back to sustainability," economist Michael Saunders of Citigroup wrote in a note to clients.
The downgrade is a particular embarrassment to Chancellor of the Exchequer George Osborne, who had spoken often about the importance of maintaining a top rating. After the Moody's announcement, Osborne said the downgrade showed that the government must "stick to its course" of austerity measures to reduce debt. "Britain has a debt problem, built up over many years, and we have got to deal with it," he wrote in a Feb. 24 article for the Sun newspaper in London. The European Commission forecasts that Britain's debt will reach 98 percent of gross domestic product next year, up from 90 percent in 2012.
Still, the downgrade is likely to raise pressure on the government to take action to spur growth, as the country stands on the brink of a triple-dip recession. The economy shrank 0.3 percent in the fourth quarter of 2012. In announcing its action, Moody's said it expected sluggish growth to "extend into the second half of the decade."
Opposition Labour Party leaders, calling the downgrade "humiliating," said they would question Osborne about it Monday in Parliament. With the government scheduled to present its 2013 budget plan on March 20, Labour is calling for stimulus measures including a reduction in the value-added tax.
To anyone who's been following Britain's economic woes, the only surprise about the Moody's action was that it didn't come sooner, says Mark Allan, an economist at Axa Investment Managers in London. But, he says, "It is only the start of the political pressure."
With reporting by Thomas Penny and Scott Hamilton of Bloomberg News
Before it's here, it's on the Bloomberg Terminal.
LEARN MORE