Departing SBA Chief: What's Next for Small Business
By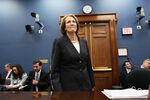 Challenges abound for the next leader of the U.S. Small Business Administration: imminent federal spending cuts, diminished bank lending to small businesses, and frustration from employers that will soon be required to offer workers health insurance. Karen Mills, the outgoing SBA chief, says she's leaving behind an agency that's ready to tackle each of these hurdles.
Mills, a former venture capitalist who took over the agency in the midst of the financial crisis, plans to remain until her successor is named and confirmed. In an interview at the SBA's New York office, she said the agency increased loan support and offered greater hands-on outreach to small businesses. "She came in very enthused and aggressive about what she'd like to accomplish, and I think she got quite a bit of it done," says Patricia Greene, a Babson College entrepreneurship professor who has served on an SBA advisory board since before Mills took office.
The first hurdle for the next SBA chief may be what's known in Washington-speak as sequestration: Blanket spending cuts worth $85 billion this year are set to begin on March 1 if Congress doesn't act. The SBA has been preparing for such a possibility since last summer, Mills said, and won't have to furlough workers as many agencies must. But spending cuts have already damaged businesses selling to the government. "Starting in December, the small business contracting by the Department of Defense went way down," she said. "The spending got delayed in anticipation of sequester so they didn't get their contracts."
Beyond the near-term spending cuts, the next SBA chief will face the lingering effects of the financial crisis. Bank lending to small businesses is about $100 billion below its pre-crisis peak. During Mills's tenure, the SBA expanded its loan guarantees, raised loan amounts, and waived fees, reviving an SBA loan market that froze during the crisis. Still, SBA loans are only about 10 percent of small business lending. "The rest of the market is still tight," she said.
On health care, Mills says the Affordable Care Act will benefit business owners who, starting this fall, will be able to shop for health insurance policies in state exchanges. She downplayed the considerable frustration that some businesses with more than 50 employees have with the new requirement that they cover workers. "Most small businesses over 50 people do offer health insurance right now," she says. "We will help people get a much more clear idea of their options and the indications are that they will have more options for more affordable care."
Mills's legacy may be raising the profile, both within the government and in the public's eyes, of an agency whose work she says wasn't valued when she arrived. She's on the president's economic team and was elevated to the cabinet. "We see entrepreneurship and small businesses and supply chains as a critical part of the economic growth and competitiveness agenda," she said.
One example: The White House has embraced the idea of supporting clusters of businesses in the same industry, an idea Mills championed before taking office. The government now supports 56 such groupings. Supporting "place-based" strategies, such as a manufacturing hub in Youngstown, Ohio, that President Obama highlighted in the State of the Union address, will be a big part of the SBA's agenda in the second term.
Mills said whoever takes over her job will have more work to do making the SBA more visible to businesses that can benefit from its programs. "One of the most important things we hear is the SBA needs to be ubiquitous," she says. "We do all these things, but people still don't know."
Before it's here, it's on the Bloomberg Terminal.
LEARN MORE