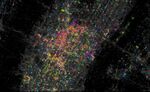 Here at Atlantic Cities, we write fairly often about folks using tweets to gauge the mood of a place. But Fast.co brings us something a little different. As they explain it:
You can walk the streets of New York City and hear a veritable babel of languages. It's estimated that as many as 800 languages are spoken around the city. A new mapping project takes a look at which ones are the most spoken on social media.
Researchers turned 8.5 million geo-located tweets into an interactive Twitter NYC map, sorting languages with Google Translate. Five percent of tweets were in languages other than English.
Times Square is the city's most multilingual location, thanks, no doubt, to the large number of tourists that pass through. Top languages included Spanish (2.7 percent of tweets), Portuguese, Japanese, Russian, Korean, and French. As Fast.co writes:
This list of top tweeted languages differs from that of New York's top six foreign languages: Spanish, Chinese, Russian, Korean, Italian, and French Creole ... Do Chinese and Italian speakers living in New York just not like to use Twitter? Or are Portuguese and French very active on Twitter, tweeting about what they're seeing in New York for the people back home?
See the full map here.