Online Gambling in the Garden State
Online Gambling, Jersey Style
By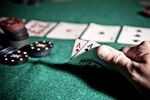 One by one, U.S. states are taking on the issue of whether to legalize—and cash in on—online gambling, a market that by most estimates is worth $4 billion to $6 billion, according to GamblingCompliance, which tracks the global gaming industry.
New Jersey lawmakers will vote on the issue on Feb. 26. If both houses approve, New Jersey will become the nation's third state to legalize Internet casino games, following Nevada and Delaware.
The bill, which Governor Chris Christie recently vetoed in order to slip in a few provisions, is likely to pass. Amendments will include a 15 percent state tax of gross revenue on online gambling—up from 10 percent—and an increase in annual funding to fight compulsive gambling, from $150,000 to $250,000. Democratic leaders of New Jersey's Senate and Assembly have said they will accept these terms.
At least one foreign online gambling company is already positioning itself to get in on the game. Isle of Man-based PokerStars, the world's leading online poker site, agreed in December to buy the struggling Atlantic Club Casino Hotel in Atlantic City. Purchasing the brick-and-mortar casino, which posted a $13.6 million operating loss through the first three quarters of 2012, would give the PokerStars brand more visibility as it tries to gain a foothold in the nascent U.S. online gambling market.
For now, PokerStars is still awaiting approval of its gaming license application from the New Jersey authorities that regulate Atlantic City's $3 billion gambling industry. Some say the company will face tough scrutiny due to its tainted history, which goes back to April 15, 2011. On that day, known in the industry as Black Friday, the U.S. Department of Justice seized PokerStars and two other foreign-based online poker sites, Full Tilt Poker and Absolute Poker, and shut down their domains. The Department of Justice also indicted 11 men in connection with the three sites, charging them with bank fraud, money laundering, and illegal gambling offenses.
PokerStars managed to recover quickly, and in July acquired its beleaguered competitor Full Tilt. As part of the deal, PokerStars agreed to pay the U.S. government $547 million, to be used in part to reimburse former U.S. customers of Full Tilt, whose accounts have been frozen since Black Friday. In forging the settlement, PokerStars also cleared the way to reenter the U.S. market and begin taking online bets wherever Internet gambling is legalized.
The caveat is that many states may only allow local—not foreign—companies to offer online gambling. In the wake of Black Friday, some people even speculated that the U.S. Justice Department's move was intended to clear out foreign companies that dominate online gambling, so U.S. casinos could come in and take over. By purchasing the Atlantic City casino, PokerStars would get its foot in the door.
American online poker fans would surely welcome renewed access to the popular PokerStars and Full Tilt sites. Since Black Friday, some U.S. players have resorted to the more complicated process of gambling online using a crypto-currency called Bitcoin. Several even fled the country altogether, moving to such places as Costa Rica and Europe to maintain access to PokerStars. If the New Jersey vote goes through, as expected, PokerStars fans from across the country may soon have to travel only as far as the Garden State.
Before it's here, it's on the Bloomberg Terminal.
LEARN MORE