After Three Years, BP Is Finally Headed to Court
Paul M. Barrett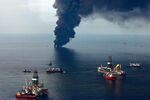 By now, BP and the U.S. government should have hashed out a final, all-in price tag for the April 2010 Gulf of Mexico oil spill. This sort of big-dollar case, the conventional wisdom dictates, settles out of court. Going to trial raises risks for the combatants that cautious lawyers try to avoid.
On Monday, unless the Justice Department and the London-based energy giant reach a last-minute truce, they will defy expectations and go to trial in federal court in New Orleans, where BP faces claims totaling billions of dollars.
Why are the opposing sides rolling the dice? One lawyer involved in the case explained to me that with BP trying to offload liability on its two main contractors, Halliburton and Transocean, and Gulf state governments trying to get in on the action, the multilevel legal chess match became too complicated to resolve. Now, U.S. District Judge Carl Barbier, a Clinton appointee, will declare in a non-jury trial just how negligent BP (allegedly) was in contributing to the biggest offshore oil spill in U.S. history.
Long-running negotiations have broken down, BP general counsel Rupert Bondy said in a prepared statement: "Faced with demands that are excessive and not based on reality of the merits of the case, we are going to trial."
About 4.9 million barrels of oil spewed from BP's Macondo well off the Louisiana coast, according to the government. Under the Clean Water Act, polluters face a penalty ranging from $1,100 to $4,300 for each barrel spilled, depending on whether there was "gross negligence," among other factors. Subtracting 810,000 barrels of rogue oil that BP collected immediately after the disaster, the company now faces a maximum federal pollution fine of $17.6 billion. States, businesses, and individuals want further billions on top of that.
BP's Bondy said that the company won't be found grossly negligent—the key question in the first phase of the trial. "Gross negligence is a very high bar that BP believes cannot be met in this case," the corporate attorney said. "This was a tragic accident, resulting from multiple causes and involving multiple parties. We firmly believe we were not grossly negligent."
Several major aspects of the Gulf litigation debacle have already settled. Transocean, which operated the doomed Deepwater Horizon rig, has won court approval for a $1 billion settlement of pollution claims with the U.S. Eleven workers died in the rig explosion. Transocean has also agreed to plead guilty to a misdemeanor count of violating the Clean Water Act and to pay $400 million to resolve federal criminal allegations.
In November, BP separately settled federal criminal charges in a plea deal with the government which included a $4 billion penalty and a related $525 million settlement with federal securities regulators over BP's alleged misrepresentation of the size of the spill.
Our colleagues at Bloomberg News on Feb. 21 identified a quirk in the case of the sort that has made it so difficult to resolve with finality. Statements by a witness for BP, Bloomberg News reported, could help Halliburton escape paying billions of dollars in damages. Houston-based Halliburton did cement work and other tasks on the Deepwater Horizon.
The BP witness, an engineering expert named J.J. Azar, said in a deposition that Halliburton did not have an opportunity to avert the rig's explosion. Instead, he placed potential responsibility on BP and Transocean. The blast might have been avoided if a "well integrity" test by BP and Transocean hadn't been misinterpreted, Azar said during questioning by a Halliburton attorney. Bloomberg obtained a sealed transcript of the December 2011 deposition.
Despite the Azar testimony, BP is widely expected to try to shift responsibility to both Halliburton and Transocean, which is based in Switzerland. The contractors will point the finger back at BP, which has already set aside $42 billion for spill liability, much of which it has raised by selling assets over the past two years. Of that total, BP has spent more than $14 billion on spill cleanup and nearly $10 billion in payments to local governments, businesses, and individuals, according to a tally by The New York Times.
Next week in New Orleans, all sides will unleash their lawyers yet again.
Before it's here, it's on the Bloomberg Terminal.
LEARN MORE