Why One Star Money Manager Dumped Apple Stock
Marsico saw a slowdown in iPhone sales and no big hits coming
By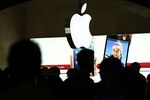 Tom Marsico, whose Denver investment firm Marsico Capital Management manages about $30 billion, started pouring money into Apple six years ago when the stock was below $100. He had a hunch Steve Jobs would enter the phone business. So it was striking when Marsico started selling the stock last year when it was near a record high. The firm dumped the last of its holdings before Apple's disappointing earnings report in January, avoiding much of a fall that has wiped more than 30 percent off the stock's price since September.
 
 
When did you first invest in Apple?
We met with [then-] Motorola CEO Ed Zander in New York the day in 2006 they were launching the Rokr, the first cell phone to also run iTunes. I was with my technology analyst, and we left thinking this was a way for Steve to understand the cellular phone industry. We walked out of that meeting thinking there was a big opportunity for Apple here, and that was the genesis for understanding what that potential for Apple was.
 
How much money did Marsico Capital make from investments in Apple?
We had greater than $1 billion of profits on a holding that was worth more than $2 billion during the summer of last year.
 
Why did you sell?
The penetration level for the iPhone is approaching a limit, the company's profit margins have probably reached a peak, and when we looked at the major new products they could introduce, we didn't think anything could be as substantial as the iPhone. The main driver of Apple's profit is the phone. I've been following the cellular telephone industry ever since the spectrum was created and divided among the Bell systems. We saw the penetration of the iPhone had reached a level that you knew the growth rate would have to slow. The competition also has improved. Samsung has really come on with very competitive products.