Sri Lanka Bourse Mulls Stock-Float Rule to Attract Investors
Rajhkumar K Shaaw and Anusha Ondaatjie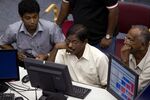 Sri Lanka's stock exchange plans to introduce a rule by the end of the year ensuring companies have a minimum amount of stock available for trade to lure foreign investors.
The bourse is discussing the minimum free-float requirement with regulators, investors and companies, Krishan Balendra, chairman of the Colombo Stock Exchange, said in an interview in Mumbai yesterday. A 20 percent level is being considered with possible exceptions for some overseas companies, Securities and Exchange Commission Chairman Nalaka Godahewa said in an interview in Mumbai today.
"We need more companies and more liquidity to attract foreign participation in the markets," Balendra said.
The bourse is seeking to lure more international investors to a market valued at $17.5 billion, the smallest of 16 Asian-Pacific stock markets tracked by Bloomberg. Hong Kong, which has a $3.49 trillion stock market, requires companies to make at least 25 percent of outstanding shares available for trading, according to the website for the city's bourse.
"Foreigners are only able to invest in a limited number of Sri Lankan stocks as there's not enough liquidity," Ravi Abeysuriya, chief executive officer at Heraymila Securities Ltd., said in Colombo. "There's need to increase liquidity."
Trade Deficit
The benchmark Colombo All-Share Index rose 0.1 percent at 2:41 p.m. local time, the first gain in four days. The gauge has fallen 25 percent in the past two years as the government devalued the rupee and raised interest rates to narrow the trade deficit and combat inflation. The index more than quadrupled over 2009 and 2010 as economic growth accelerated following the end of a civil war against Tamil separatists.
"The market has corrected but companies continue to see good earnings," Balendra said. "As a result, valuations now are quite attractive compared to other regional markets. There is lot of growth potential and the prospect of the economy is positive."
Sri Lanka's inflation is likely to ease from March and the island's monetary policy direction is toward easing, Central Bank Governor Ajith Nivard Cabraal said in an interview today. Cabraal, Godahewa and Balendra are in Mumbai to attend an investor forum hosted by the Colombo Stock Exchange.
The Colombo All-Share Index trades at 11.4 times reported profit, according to data compiled by Bloomberg. That's about a 3 percent discount to the MSCI Frontier Markets Index, the widest gap since June 2009, the data show.
Stock Weighting
Stock exchanges usually introduce free-float requirements to ensure adequate liquidity for investors in a publicly traded stock. Index compilers such as MSCI Inc. take into account the percentage of shares available to investors when determining a stock's representation in benchmark stock gauges.
Based on inputs from stakeholders in Sri Lanka's stock market, "we will come out with a new regulation on the free float requirement by the end of this year," Balendra said.
The bourse is also talking to the government about listing state-owned enterprises, which would boost trading volumes, he added. Regulators would "like to see" at least two or three state companies sell shares in coming years, with Sri Lanka Insurance Corp. expected to list by 2015, Godahewa said.
"The government can retain control in these companies. These are some large companies and if they list it will bring liquidity and value. It will increase the market cap of the exchange," Balendra said.
Some 47.2 million Sri Lankan shares changed hands on average each day in the past six months, compared with 134.5 billion in Hong Kong, according to data compiled by Bloomberg.
Foreigners sold a net $3.9 million of Sri Lankan shares this year, after buying $300.4 million in 2012, according to data compiled by Bloomberg.
Before it's here, it's on the Bloomberg Terminal.
LEARN MORE