M&A News: Lufthansa, Orix, HSBC, Great-West Lifeco, TSYS
Noteworthy expenditures of the week
by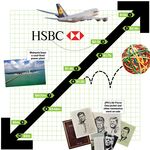 1. Deutsche Lufthansa will buy eight long-range and 100 short- to medium-range aircraft from Airbus and Boeing for about $12 billion.
2. In its largest acquisition, Orix, a Japanese owner of leasing and insurance businesses, will pay $2.6 billion for control of the asset management unit of Dutch lender Rabobank Group.
3. Europe's No. 1 bank by market value, HSBC Holdings, is selling its Panama unit to Bancolombia for $2.1 billion in an attempt to revive profit by focusing on fewer, more promising markets.
4. Seeking to expand its European operations, Canadian insurer Great-West Lifeco will buy Irish Life Group from Ireland's government for $1.7 billion.
5. Georgia-based payment processor TSYS will acquire prepaid debit-card provider NetSpend for $1.4 billion to tap the market for customers who don't have traditional bank accounts or credit histories.
6. Office Depot will pay $1.2 billion for OfficeMax, which has been losing sales to online rivals and Staples. The companies' combined revenue will total about $18 billion.
7. The world's leading provider of drug-trial services to pharmaceutical companies, Quintiles Transnational Holdings, filed to raise $600 million in an IPO in the U.S.
8. 1Malaysia Development, the state investment company also known as 1MDB, plans to buy the country's coal-fired Jimah power plant for $548 million, says a person familiar with the matter.
9. The California Public Employees' Retirement System will divest shares worth a combined $5 million in Smith & Wesson Holding and Sturm Ruger, which both make guns banned in the state.
10. A private collection of John F. Kennedy memorabilia, including his Air Force One leather bomber jacket, fetched nearly $2 million at auction.
Before it's here, it's on the Bloomberg Terminal.
LEARN MORE