Consumers in U.S. Hold Negative Economic Outlook as Fuel Climbs
Jeanna Smialek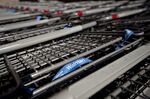 Americans remain pessimistic about the economic outlook in February as rising gasoline prices compound the damage done by a higher payroll tax.
The gap between positive and negative expectations was minus 7 this month, unchanged from January's three-month low, according to the Bloomberg Comfort Index. The measure reflecting present conditions for the week ended Feb. 17 rose to minus 33.4, the highest reading this year, from minus 35.9 in the previous seven-day period.
A 44-cent jump in the cost of a gallon of gasoline over the past month is chipping away as disposable income just as households also try cope with a two percentage-point increase in the levy that funds Social Security. A jobless rate that's been stuck around 8 percent for almost a year may also be making consumers less secure about the economy's long-term prospects.
"The forward-looking measure of economic optimism is sending a fairly clear signal that many households are having trouble simultaneously adjusting to higher payroll taxes and gasoline prices," said Joe Brusuelas, a senior economist at Bloomberg LP in New York. "Those concerns are likely to weigh heavily on the array of consumer sentiment and spending data going forward."
Depressed expectations may hold back spending at retailers including Wal-Mart Stores Inc. The world's largest retailer today projected first-quarter profit that trailed analysts' estimates as the payroll tax limits spending among its lower-income shoppers.
Jobless Claims
Applications for unemployment benefits rose for the first time in three weeks, returning to levels seen prior to the holiday period and indicating little change in the pace of firings, another report showed. Jobless claims increased by 20,000 to 362,000 in the week ended Feb. 16, according to figures from the Labor Department. The median forecast of 48 economists surveyed by Bloomberg called for an increase to 355,000.
Stocks fell, following the biggest drop since November for the Standard & Poor's 500 Index, as investors continued to digest minutes of the Federal Reserve's last meeting that were issued yesterday. The report signaled policy makers may consider slowing the pace of asset purchases. The S&P 500 fell 0.5 percent to 1,504.76 at 9:40 a.m. in New York.
The Bloomberg monthly expectations survey showed 29 percent of Americans this month said the economy is getting better, the same as in January. The reading has dropped 8 points since November. Meanwhile, the share saying the economy is getting worse held at 36 percent.
Underlying Shift
The lack of movement belies shifts underneath the surface. Men turned more optimistic, with 34 percent saying the economy was getting better compared with 24 percent in January. Views held by the opposite sex went in the other direction, with 26 percent of women saying things were improving in February, down from 32 percent the prior month.
The negative outlook may be rooted in higher taxes. Congress allowed the payroll levy that funds Social Security to return in January to its 2010 level of 6.2 percent from 4.2 percent, which means an American who earns $50,000 a year is taking home about $83 less a month.
Higher fuel costs are probably also causing pessimism. The price of a gallon of regular gasoline at the pump averaged $3.73 on Feb. 17 compared with $3.29 a month earlier, according to data from AAA, the largest U.S. motoring group. It was at $3.77 on Feb. 19, up 17.1 percent from a one-year low reached Dec. 19.
Little progress in reducing joblessness may be adding to concerns. The unemployment rate has held within a range of 7.8 percent to 8.2 percent since March 2012.
Payroll Gains
Still, employers hired a net 157,000 workers last month following gains of 196,000 and 247,000 in December and November, Labor Department figures show. The payroll gains may be giving the unemployed hope. The comfort index for those out of work climbed last week to a 10-month high.
Hiring gains may also be giving at least some Americans a greater means to make purchases.
The Bloomberg weekly measure of Americans' views on the current state of the economy rose for a fourth straight week, climbing to minus 58.3, its best reading in 2013, from minus 61.5.
The comfort index's gauge of personal finances improved to 0.1, the first positive reading this year, from minus 1.6. The buying-climate index rose to minus 42, the best reading since the first week of January, from minus 44.6 in the prior period.
Income Brackets
The Bloomberg survey showed the comfort index for Americans making $15,000 a year or less is at its best level in more than five years. The gauge for the highest income bracket, those earning at least $100,000, advanced 5.4 points to 9.1, the highest in six weeks.
As expectations remain depressed, those gains may prove hard to maintain.
"Consumers now face higher payroll taxes and delayed tax refunds in addition to higher gasoline taxes," said Gregory Levin, chief financial officer of BJ's Restaurant Inc. in Huntington Beach, California, which operates namesake pizza, brewery and grill restaurants in several western states. "Clearly, consumers have less discretionary income to spend on restaurant occasions right now and likely for the foreseeable future."
Levin compared a slowdown in middle-of-the-week dining out during the first quarter to what the company saw in 2008.
"We have heard comments from other restaurant operators and some retailers as to the softening sales trends so far this quarter, and our sales trends are also currently softer than what we would like," he said.
Wal-Mart Profits
Wal-Mart today projected first-quarter profit that trailed analysts' estimates as the increase in the payroll tax and delayed refunds curtailed spending by its lower-income shoppers.
February sales for Wal-Mart got off to the worst monthly start in seven years, according to an internal e-mail obtained by Bloomberg that was first reported on Feb. 15.
"February sales started slower than planned, due in large part, to the delay in income tax refunds," Bill Simon, Wal-Mart U.S. president and chief executive officer, said in a statement. "We continue to monitor economic conditions that can impact our sales, such as rising fuel prices, changes in inflation and the payroll tax increase."
The Bloomberg Consumer Comfort Index, compiled by Langer Research Associates in New York, conducts telephone surveys with a random sample of 1,000 consumers 18 and older. Each week, 250 respondents are asked for their views on the economy, personal finances and buying climate. The percentage of negative responses is subtracted from the share of positive views and divided by three. The most recent reading is based on the average of responses over the previous four weeks.
The comfort index can range from 100, indicating every participant in the survey had a positive response to all three components, to minus 100, signaling all views were negative. The margin of error for the headline reading is 3 percentage points.
Before it's here, it's on the Bloomberg Terminal.
LEARN MORE