Yammer Earns Its Keep for Microsoft, One Kahlua Sundae at a Time
by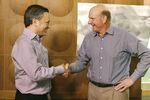 About six months ago Microsoft acquired Yammer for $1.2 billion. The price tag still seems shocking. Surely some engineers at Microsoft could look at Facebook, mimic the social networking service, and make it slightly more corporate, just like Yammer's engineers did. Right? Right??
Second guessers be damned. Microsoft ponied up for what it sees as an energetic force that can spice up its office-productivity story and complement such franchises as Office, Lync, and Sharepoint. And on Wednesday, Yammer presented fresh financial metrics that go some way to backing up Microsoft's interest in the social enterprise startup.
Yammer's sales in 2012 just about tripled year over year, according to David Sacks, Yammer's co-founder and now corporate vice president in the Office division at Microsoft. Sacks will not provide an exact revenue figure, but analysts had the company doing about $20 million in 2011. So we're likely talking about $60 million in revenue last year.
It's the fourth quarter, though, that really has Sacks excited. Yammer added 290 paying customers, including T.G.I. Friday's and GlaxoSmithKline. The fourth-quarter sales also quadrupled year over year, and Sacks attributes this, in part, to how reassuring the Microsoft name is to big customers. "We are seeing an acceleration in the business," Sacks says. All told, Yammer has more than 7 million people using its service and manages to convert about 20 percent of them to the paid version.
After the Microsoft deal closed, Yammer lowered its prices from around $15 per person per month to $3 per person per month. "So we are making up for that revenue in volume," Sacks says.
In a recent interview with yours truly, Microsoft's chief executive, Steve Ballmer credited Yammer with bringing to the company some fresh ideas about how to do Web services and called the business part of "a big, bold voyage." Ballmer must have visited Yammer's offices recently, because they certainly are big and bold. The company recently moved into an office building just off Market Street in San Francisco. Twitter has its headquarters upstairs, while startups such as OneKingsLane operate in floors below. Yammer now has 80,000 square feet inside of the building, which used to be a furniture and textile market. (The ceilings in the office are unusually high, to accommodate the rugs that had to be maneuvered inside the facility.)
The office has a bit of a day-spa feel. Tulips and orchids fill the lobby to the point that pollen seems to thicken the air. The center of the space is a giant open area filled with lounges for impromptu meetings. Yammer even had the footrests shaped like conversation bubbles in cartoons to reflect its social stylings. On a recent Friday, some workers were pouring Kahlua into their ice cream sundaes, while others built DIY wet bars by their desks and began lining up shots.
If this is what it takes to quadruple sales, so be it.
Before it's here, it's on the Bloomberg Terminal.
LEARN MORE