Vodafone Pays Most in $3.6 Billion U.K. Spectrum Auction
Amy Thomson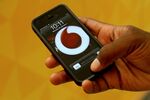 Vodafone Group Plc led five winning bidders for faster fourth-generation mobile spectrum in the U.K. that raised 2.34 billion pounds ($3.61 billion).
Vodafone will pay 790.8 million pounds for the spectrum, British regulator Ofcom said in a statement today. The bidders must pay any outstanding sums for the frequencies before midnight on Feb. 21.
Faster services on the 4G frequencies will begin appearing within six months, Ofcom said. The bids came in lighter than the 3.5 billion pounds that U.K. Chancellor of the Exchequer George Osborne forecast in November. Ofcom had said it wanted to raise at least 1.3 billion pounds.
"It's a good thing that they didn't have to spend billions more because arguably they now have more money in the bank to put into actually building the network," said Matthew Howett, an analyst at market researcher Ovum. "If you go to the 3G auction 10 years ago, they had to spend so much money that they were able to invest very little in actually building out those networks, which is arguably why we have such poor 3G service today."
Deutsche Telekom AG and France Telecom SA's venture EE will pay 588.9 million pounds, according to the statement. Hutchison Whampoa Ltd's Three bid 225 million pounds. BT Group Plc, the biggest fixed-line company in the U.K., will pay 186.5 million pounds, and Telefonica SA's U.K. division will spend 550 million pounds.
'Spring' Rollout
The 3G auction in 2000 during the height of the dot-com boom raised 22.5 billion pounds.
Vodafone shares fell 0.2 percent to 163.2 pence at 8:23 a.m. in London trading. BT dropped 0.1 percent to 277.3 pence. Telefonica rose 0.1 percent to 9.81 euros in Madrid. France Telecom, which said it may spin off part of EE by the end of the year, rose 2.7 percent to 7.93 euros while its partner Deutsche Telekom declined 0.5 percent to 8.27 euros in Frankfurt.
Mobile-phone service on 4G will be several times faster than current third-generation networks and will have greater capacity, giving users the ability to use more high-bandwidth services such as video streaming or uploading large files.
The companies still must bid for their preferred position within the bands, Ofcom said. This process "will take place shortly," the regulator said. Operators will be able to start offering services as early as the spring.
Network service supplier MLL Telecom Ltd. and Hong Kong phone company HKT didn't submit winning bids, Ofcom said.
EE, the largest U.K. wireless carrier, was the first to begin selling 4G service last year when it rolled out the new technology on existing spectrum.
"4G coverage will extend far beyond that of existing 3G services, covering 98 percent of the U.K. population indoors -- and even more when outdoors -- which is good news for parts of the country currently under-served by mobile broadband," Ofcom Chief Executive Officer Ed Richards said in the statement.
Before it's here, it's on the Bloomberg Terminal.
LEARN MORE