Leighton in Talks to Sell Data Unit to Ontario Teachers
Brett Foley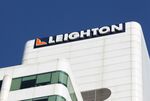 Leighton Holdings Ltd., Australia's biggest builder, is in exclusive talks to sell 70 percent of its telecommunications assets to Ontario Teachers' Pension Plan.
The sale, which values the unit called NextGen at A$885 million ($917 million), is subject to the completion of due diligence, documentation and consent of other counter parties, Sydney-based Leighton said in a statement today. The deal is led by Ontario Teachers' long-term equities group.
Leighton, which is controlled by Actividades de Construccion y Servicios SA, is selling the data network to pay debt following "unsolicited" interest in the business, it said in September. In addition to an Australian long-haul fiber optic network, NextGen includes cloud storage unit Infoplex and data center provider Metronode. Madrid-based ACS controls Leighton through its German unit Hochtief AG.
NextGen's customers include Australian companies, Internet service providers and government agencies, according to its website. Metronode operates data center facilities in Australian cities including Sydney, Melbourne, Brisbane and Perth while Infoplex hosts so-called cloud computing services.
Leighton rose 3.6 percent to A$24.29 at the close in Sydney, its highest since March 8. TPG Telecom Ltd. fell 9.4 percent to A$2.51, the biggest drop since Sept. 2010. TPG Telecom was also a bidder for NextGen, Reuters said Jan. 28, citing unidentified people with knowledge of the matter.
Ontario Teachers', Canada's third-biggest retirement-fund manager with assets of C$117 billion ($116 billion) at the end of 2011, in May won a 50-year lease for an Australian desalination plant with Hastings Funds Management Ltd. for A$2.3 billion.
The Canadian asset manager is also among bidders for leases valued at about A$2 billion for two Australian ports, people with knowledge of the matter said in October.
Before it's here, it's on the Bloomberg Terminal.
LEARN MORE