Florida Atlantic University's Stadium Named After a Prison Company
by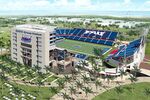 The GEO Group is a for-profit prison company based in Boca Raton, Fla., that calls itself "the world's leading provider of correctional and detention management and community reentry services to federal, state and local government agencies." It can also call itself the world's leading provider of Florida Atlantic University Owls football, having paid $6 million to put its name on the school's stadium.
The deal, as the New York Times points out, is unusual for a sponsorship space that's normally reserved for soft drinks, airlines, and banks. The GEO Group's customers are governments, not consumers. And it's a company whose publicity strategy normally involves staying quiet. (As when, in 2010, the Southern Poverty Law Center and the ACLU National Prison Project alleged in a class action lawsuit that a youth detention center GEO Group used to operate in Mississippi was home to "rampant contraband brought in by guards, sex between female guards and male inmates, inadequate medical care, prisoners held inhumanely in isolation, guards brutalizing inmates and inmate-on-inmate violence that was so brutal it led to brain damage.")
The deal is understandable for Florida Atlantic. That $6 million will help pay the bills for athletic programs, no matter who is signing the checks, and the school has close connections with the company's chairman and chief executive officer, George Zoley. More puzzling is what the GEO Group expects to gain by calling attention to itself.
"It's basically a vanity play by the owner of the company," says Jim Andrews, senior vice president of content strategy at IEG, a sponsorship consultant that has worked with the Minnesota Twins, Aon, and the San Francisco 49ers. "There certainly aren't a lot of direct marketing benefits that a company like his would get." While the deal does help position the company, he says, as an "interested corporate citizen in their home community," GEO Group didn't need to attach its name to do that. "If [George Zoley] had named it Zoley stadium or named it after his father, the people who would need to know in the community would understand who he is and what company he owns, but Bloomberg Businessweek and the New York Times would not be writing articles about it."
Asked by e-mail if they had considered this option, GEO spokesperson Pablo Paez responded with a statement saying that the gift was being made through the company's charitable foundation. He further defended the company's record. "We are proud of our company, our foundation, and our relationship with Florida Atlantic University," Paez wrote, "and while we understand others will always have an opinion and critics will criticize, we hope that those critics would for one day put aside their criticisms and join us in supporting this important endeavor for the betterment of higher education in the State of Florida."
Andrews concedes that for some fans, the deal may help legitimize GEO. "For people who don't really look too deeply," he says, "it creates a nice veneer." But he would have cautioned GEO strongly as to whether the deal was worth the negative attention. Frank Vuono, a partner at 16W Marketing with long experience in the naming rights business, doesn't see what all the fuss is about. "I don't know that it's controversial," he says. "Why not have your company stand for something positive? Good for them."
Before it's here, it's on the Bloomberg Terminal.
LEARN MORE