To Learn About China, See It
Harold L. Sirkin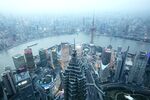 I started going to China about 15 years ago and I've been there at least once a year, every year, since. I hadn't been back to Shanghai, however, since 2006.
I'm glad I returned late last year because it reminded me of an important lesson that many executives forget as they pore over data and statistics, listen to colleagues and advisers, and contemplate impossible-to-predict five- and 10-year projections: Always trust your eyes.
Beijing may be the political capital of China, but make no mistake: Shanghai is where the action is. In some respects, it makes the New York's Big Apple seem small.
Some quick facts: Shanghai is China's largest city by population, with more than 23 million people, approximately nine million more than when I first visited the "Pearl of the Orient" in the mid-1990s. That also makes it the largest city in Asia—and the largest in the world.
If Shanghai were a country, it would be the world's 53rd-most-populous, with one of the world's largest gross domestic products—about $300 billion in 2011, up more than 8 percent from 2010. This makes its economy larger than Hong Kong's and larger than all but those of a few dozen countries.
Prior to 2006, the hotel I used to stay in had a large lawn and a great view of the Huangpu River, a tributary of the Yangtze. By 2005, the hotel had no lawn and no river view, but it had a great view of a new five-story shopping mall—complete with a Starbucks and ATM machines. Now the hotel is gone, replaced with more valuable commercial and residential properties. Remember, trust your eyes.
In today's Shanghai, you can hop on a Maglev train at Shanghai Pudong International Airport and ride all the way into Pudong City, Shanghai's commercial hub. Speeds during the 19-mile trip—a little longer than the distance from O'Hare to the Chicago Loop—reportedly can reach 268 miles per hour. I'd be thrilled to get to O'Hare (Chicago is my home town) at 26.8 mph.
Across the river from where my hotel once stood is a modern cityscape that looks more like Hong Kong than most of China. Skyscrapers abound.
Politics aside, Shanghai is in fact as capitalist a city as any in the world, with high-density, premium shopping centers everywhere, featuring lots of U.S. and European brands. Shanghai's Nanjing Road, considered the "No. 1 commercial street in China," attracts a reported 1.7 million customers every day.
By now, virtually every U.S. company that's involved in export sales has at least explored the China market. Many big companies have a major presence there. My advice, however, is to do more. Top executives need to go to China and stay for a couple of weeks. Visit Shanghai, Hong Kong, Beijing, Guangzhou, Shenzhen, Tianjin. And while you're at it, spend a few days in Taipei. Then go back again.
If you really want to know what's happening in Chinese-speaking Asia, the statistics tell only part of the story. For the rest of the story, trust your eyes.
Before it's here, it's on the Bloomberg Terminal.
LEARN MORE