Nonprofit Aims to Help Syrians Reach MBA Dreams
by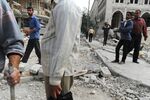 A higher education nonprofit is asking universities around the world to create scholarships for Syrian students whose studies have been disrupted by the country's violent conflict. So far, two U.S. business schools have pledged support in the form of MBA scholarships, and a U.K. school is offering a professorship in Islamic Business and Finance.
The Institute of International Education (IIE) launched the campaign in November with a goal of raising $5 million for Syrian scholars. A listing of the available scholarships that went live online last month has already been accessed by more than 2,300 prospective Syrian students and academics. Sixty-two percent of those browsing the database said they are pursuing graduate degrees; engineering was the most sought after field, followed by business and management. Several applicants told the group they are seeking degrees so they can help rebuild Syria's infrastructure and economy after the war. Here are the business schools that have committed to IIE's campaign so far:
University of Delaware
The school's Alfred Lerner College of Business & Economics is offering 25 MBA scholarships that will cover 25 percent of tuition. That lowers the cost of one year in the program to $20,430 from $27,240, says Jack Baroudi, associate dean and professor of graduate and executive programs. Baroudi says the school has received several queries in the past few weeks. One prospective student asked to apply the scholarship toward a masters degree in economics, which the university decided to allow.
Willamette University
The school's Atkinson Graduate School of Management is offering five MBA scholarships in its early career and career change program that will cover a minimum of 20 percent of tuition. That lowers the cost of one year in the program to about $26,501 from $33,126. Additional aid may be offered based on merit, says Aimee Akimoff, director of MBA recruitment. The school has already admitted one candidate who will start in the fall.
Aston University
The Birmingham (U.K.)-based business school is hiring a professor to teach at its Elshaarani Centre for Islamic Business and Finance. While the position isn't being held open exclusively for a Syrian national, the recruiting is being done through the IIE campaign. The Centre is a destination for research and teaching opportunities on investment strategies that comply with sharia (Islamic law). Sharia prohibits usury and investment in the tobacco-, alcohol-, and gambling-related sectors, as well as in companies that make pig meats and products.
Before it's here, it's on the Bloomberg Terminal.
LEARN MORE