Three-Quarters of U.K. Bankers Not Returning After Leaving Jobs
Howard Mustoe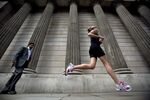 Almost three quarters of bank employees who left their jobs since the start of 2012 haven't returned to similar roles in the industry, a study showed.
Of the 2,872 people registered with the Financial Services Authority as a so-called approved person who left a major bank from January 2012 to February 2013, only 807, or 28 percent, have found new roles and re-joined the register, according to a report by eFinancialCareers, a recruitment website. Some may have retired or left the industry, while others may have found jobs that don't require FSA approval.
The figures covered nine firms: BNP Paribas SA, Credit Suisse Group AG, Goldman Sachs Group Inc., JPMorgan Chase & Co., Merrill Lynch International, Morgan Stanley, Nomura Holdings Inc., Societe Generale SA and UBS AG. The report didn't include Barclays Plc or Citigroup Inc.
Former JPMorgan bankers were most likely to find similar work in the industry, with 36 percent of those leaving getting jobs requiring FSA approval, according to eFinancialCareers. That compares with 23 percent of BNP Paribas employees and almost 30 percent of Goldman Sachs staff, the research showed.
The Confederation of British Industry said last month that Britain's financial industry will lose 43,000 jobs in the six months through March. Financial firms have eliminated more than 120,000 positions in the past year as they seek to curb expenses and retreat from capital-intensive businesses, according to data compiled by Bloomberg.
Before it's here, it's on the Bloomberg Terminal.
LEARN MORE