Prince Alwaleed Bets Another Chip on Chinese E-Commerce
by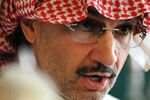 Prince Alwaleed, Saudi Arabia's most high-profile investor, shouldn't need to make a new investment to capitalize on China's rapidly growing Internet population. After all, the prince already is a major shareholder in Twitter, having put $300 million into the company in 2011. But China's censors block Twitter (along with Facebook, YouTube, and others), so the Saudi billionaire needs another vehicle if he wants to take part.
Hence the news from over the weekend that Kingdom Holding, the company controlled by His Royal Highness Prince Alwaleed bin Talal bin Abdulaziz Alsaud, is one of several investors putting about $400 million into 360buy Jingdong, an Amazon-like online shopping mall based in Beijing that is one of China's leading e-commerce players. Kingdom is investing $125 million, according to the Feb. 16 statement on its website. Combined with a recent investment by the Ontario Teachers Pension Plan and other investors, the Kingdom-led deal gives 360buy an extra $700 million.
No doubt the Saudi billionaire and other 360buy investors are attracted by the big potential of Chinese e-commerce, which is still in its fast-growth phase. The official Xinhua news agency reported Monday that 247 million Chinese shopped online in 2012, a year-on-year increase of 21.7 percent, and the value of online retail transactions increased 64.7 percent last year, with China's E-Commerce Research Center putting the total at 1.32 trillion yuan ($211.5 billion). That total should continue growing, Xinhua added, hitting 1.81 trillion yuan this year. (By comparison, U.S. online retail sales grew 15.8 percent last year, to $225.5 billion, according to the U.S. Commerce Department.)
Still, investors looking to profit from this growth have not had much luck. Last year was grim for many Chinese e-commerce plays, as 360buy and its rivals engaged in a brutal price war that included 360buy Chairman Liu Qiangdong announcing via his microblog his willingness to suffer three years without profits on electric appliances it sold online. The price war took its toll on the stock prices of 360buy competitors Suning Appliance (its Shenzhen-listed shares fell 20 percent over the past 12 months) and Gome Electrical Appliances (its Hong Kong-listed shares were down 56 percent). The ADRs of Beijing's E-Commerce China Dangdang, a 360buy competitor that got its start as a bookseller and now also sells clothing, cosmetics, and other products, fell 41 percent .
It's not just the retailers. Other Chinese online companies have suffered, too. Social networking company Renren (which benefits from Facebook's absence) was also down 41 percent over the past 12 months. Chinese search leader Baidu didn't fare much better, with its shares declining 31 percent.
This isn't the first time 360buy has made headlines with a supersize investment round. In 2011, the company raised $1.5 billion from investors, prompting speculation about a speedy move to an initial public offering. The IPO never happened, though, as allegations of accounting irregularities at some listed Chinese companies soured investors on new IPOs from China.
The additional money from the latest fundraising should help 360buy manage its cash flow till sentiment about Chinese stocks improves. And the prince's involvement gives us something of a timetable: Kingdom's executive director for private equity and international investments, Ahmed Halawani, said in the statement announcing the deal that the investment is in line with Kingdom's strategy of targeting "high-growth companies potentially seeking to be listed in one of the international capital markets within three years."
Before it's here, it's on the Bloomberg Terminal.
LEARN MORE