Light Hit by Surging Costs as Rousseff Bounce Wiped Out
Rodrigo Orihuela and Adriana Chiarini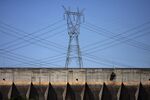 Brazilian electricity distributors are getting saddled with 900 million reais ($457 million) in monthly costs after power prices surged, wiping out gains anticipated from a government initiative to cut energy expenses.
Reservoir levels at a decade low are curtailing the use of cheap hydroelectric dams and forcing Brazil to fire up costly thermal plants to avert an energy shortfall. Light SA, CPFL Energia SA, and other distributors, which buy the thermal power at a variable rate and resell it for prices set by the government, will have to shoulder the cost increase until their next annual rate review.
Under President Dilma Rousseff's initiative announced in November, power generators cut hydropower rates in exchange for early concession renewals, with distributors expecting to pocket those savings until the rate adjustment. Analysts raised 2013 revenue estimates for the three biggest distributors after the plan, data compiled by Bloomberg shows. Now, higher expenses for thermal power are paring profit margins.
Rate cuts "are a good thing -- it's just too bad they happened at a time of low reservoirs when costs go up," Joao Zolini, chief financial officer of Light, Brazil's fourth-largest distributor, said in an interview at his Rio de Janeiro office. "Nobody's cash flow can keep up with these kinds of costs."
Government Help
Light, Eletropaulo Metropolitana Eletricidade de Sao Paulo SA, Cia Energetica de Minas Gerais, known as Cemig, and CPFL, the four biggest power companies getting most of their revenue from distribution, are joining other companies in asking the government for help in footing the bill. The distributors association, known as Abradee, sent a letter to the energy regulator and mines and energy ministry suggesting two possible fixes: The government could offer short-term subsidized state loans to distributors to cover cash shortfalls or a longer-term plan would involve changing the way costs are passed on to consumers.
"If there isn't a solution, there could be defaults in the sector," Abradee President Nelson Leite said in a phone interview from Brasilia. "We are meeting with the government."
The energy ministry and the electricity regulator didn't respond to e-mails and telephone calls seeking comment.
Brazil has switched on natural gas-fired thermal plants since November, after reservoir levels fell to the lowest since 2000, forcing dams across the Amazon, southern and central Brazil to scale back output or shut completely. About 80 percent of the nation's energy is generated by hydro plants, according to JP Morgan & Co.
Renegotiating Debt
"All distributors are impacted by this and it will affect their cash flows in the short term," Mauro Storino, a utilities analyst with Fitch Ratings, said in a telephone interview from Sao Paulo. "For Light, that could mean having to require more capital, which may mean having to renegotiate covenants to increase debt levels."
Zolini, Light's CFO, said the company has no plans to take on debt that would require it to renegotiate covenant terms.
Light has covenants limiting net debt to 3 times its earnings before interest, taxes, depreciation and amortization, or Ebitda. The ratio reached 2.7 at the end of the third quarter after debt almost tripled to 4.1 billion reais in the past five years.
Light was little changed at 20.19 reais at 12:32 p.m. in Sao Paulo, CPFL slid 0.4 percent to 19.70 reais, Eletropaulo was little changed at 13.60 reais and Cemig fell 0.1 percent to 22.91 reais.
While rising costs from thermal electricity will impact earnings in the short term, long-term benefits from the government's package to cut generation costs should ease investors' concerns, said Eduardo Carlier, head of equities at Schroeder Investment's Brazilian unit.
Revenue Estimates
Light's estimated 2013 revenue will total 7.76 billion reais, according to the average of 14 estimates compiled by Bloomberg. That's higher than an estimate of 7.72 billion reais three months ago. CPFL will report sales of 14.9 billion reais and Eletropaulo will post revenue of 9.71 billion reais, up about 0.8 percent and 0.5 percent from previous estimates. Cemig is estimated to report 17.4 billion reais in revenue in 2013, up from 17.1 billion reais three months ago.
"Whether it's consumers or the government, somebody will pay for this in the end," Carlier said in a phone interview from Sao Paulo. He doesn't own stock in utilities.
While distributors will probably be allowed to pass on the costs to consumers once they receive their annual rate adjustment from the electricity regulator, the increase will be distributed evenly over 12 months, Zolini said.
Reducing Margins
With Light's rate review scheduled for November, the company won't finish passing on the cost of thermal plants until November 2014, according to Zolini. Cemig is scheduled for review in April, Eletropaulo is up for review in July, and CPFL's different distribution units will get their adjustments throughout the year.
Cemig and CPFL didn't respond to e-mails and telephone calls to their press offices seeking comment. Eletropaulo's press office declined to comment in an e-mailed response to questions, citing a mandatory silent period before it releases quarterly earnings on Feb. 26.
"This will reduce companies' margins this year," Rafael Dias, a utilities analyst at Banco do Brasil, said in a phone interview from Sao Paulo. "It affects the operating capital. With costs higher this year, income will be lower than forecast."
Before it's here, it's on the Bloomberg Terminal.
LEARN MORE