Obama's Immigration Plan Includes Citizenship: McDonough
Jeff Plungis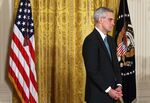 President Barack Obama backs a plan that would allow undocumented immigrants to become citizens after paying taxes and passing background checks, White House Chief of Staff Denis McDonough said.
The president's immigration priorities also include a crackdown on businesses that "game the system" by hiring undocumented workers and a revision of the court system to give people "a reasonable chance to get to this country," McDonough told CBS's "Face the Nation," one of three Sunday news shows on which he appeared yesterday.
"The system is broken," McDonough said. "Tapping into qualified immigrants in this economy, over the course of time, is a great opportunity for us."
Republican opposition to a citizenship plan helped scuttle a 2007 effort to overhaul immigration policy. That opposition has lessened since the November election, in which Obama won 71 percent of the Hispanic vote.
USA Today reported Saturday that a draft immigration plan circulating within the White House would allow undocumented immigrants to become legal within eight years. Senator Marco Rubio, a Florida Republican who is one of eight senators working on a bipartisan immigration proposal, told the newspaper that the administration's plan was "half-baked" and "dead on arrival in Congress."
The Obama administration is talking to all the parties involved and is anxious to see a congressional proposal it can work with, McDonough said on ABC's "This Week" program.
"He says it's dead on arrival," McDonough said, referring to Rubio's comment about the draft White House plan. "Let's make sure it doesn't have to be proposed," he added, urging lawmakers to come up with their own language.
Congressional Efforts
Senator Chuck Schumer of New York, the chamber's No. 3 Democrat and a member of the bipartisan group working on an immigration proposal, said on CNN's "State of the Union" program that he was "very hopeful" a bill could be finished next month. "I think immigration has a very decent chance of getting done," he said.
He said he knew that Rubio was "upset" about the leak of the White House proposal to USA Today. "We talked to him," Schumer said, adding that Rubio "was fully on board with our process."
Republican Representative Paul Ryan of Wisconsin criticized the leak of the president's plan as a partisan political move. The White House plan appears to lack a guest-worker program, a policy backed by businesses and opposed by labor unions.
"There's a way to do this through earned legalization, without rewarding people for having come in with undocumented status, illegally," Ryan, who heads the House Budget Committee, said on ABC's "This Week." "It's clear that what the president is talking about does not do that."
Guest Workers
The U.S. Chamber of Commerce, the world's largest business federation, has backed a guest-worker program as a way to fill jobs where there are shortages of candidates. It has been negotiating with the AFL-CIO, the largest U.S. labor federation. Richard Trumka, the labor group's president, said Feb. 7 he could back a "data-driven" system that would be limited to locations where there were actual worker shortages.
On the budget deficit, McDonough told ABC that Obama is ready to work with Republicans on a plan to avoid automatic budget cuts that would cripple the nation's defense as well as programs vital to the middle class.
The president has a plan to reduce the deficit by $1.5 trillion, and Obama will insist the changes happen in a "balanced way" that includes revenue increases, McDonough said.
Republican Criticism
While Republicans in Congress have criticized the president for not laying out a specific plan to avoid the automatic cuts, known as the sequester, the president's State of the Union Address contained plenty of details on how the budget can be restructured in a responsible way, McDonough said.
"This is not an ideological effort," he said. "This should not be a social-science experiment. This should be a question where we ask ourselves, 'What is most important to the economy? What is most important to the middle-class families of this country?'"
The U.S. economy stalled during the last three months of 2012, marking the worst quarter since the recession ended three and a half years ago, as defense spending tumbled by the most since 1972. Without action by Congress, the federal government is poised next month to begin the first round of $1 trillion in budget cuts set to occur over the next nine years, adding another potential drag to the economy.
Before it's here, it's on the Bloomberg Terminal.
LEARN MORE