Mendoza's New Biz Program: No Experience Needed
Geoff Gloeckler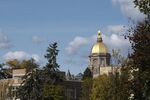 Starting in June, Notre Dame's Mendoza College of Business will begin offering a one-year master of science in business (MSB) aimed at recent college graduates with degrees in disciplines other than business and little to no work experience.
In the three-semester master's offering, students will take courses in subjects like accounting, finance, and general management. The program will be bookended with two "bridge" courses where students will be asked to apply their unique skills and the business concepts they learn to a series of case studies. "History majors are going to look at things differently than a science major or a humanities major," says Brian Lohr, director of MBA and MSB admissions at Mendoza. "We don't want to downplay their different backgrounds. We want to embrace them."
The application requirements for the master's program are similar to those of the MBA program, including the submission of GMAT or GRE scores, academic transcripts, an essay, and multiple recommendations. The main difference is that applicants with extensive work experience need not apply to the new program; in the MBA program, students average more than five years' experience. "The goal is to give students the language of business before they enter the business world," Lohr says. "We want to prepare them to really hit the ground running."
Students in the Mendoza program, which carries a price tag of $43,000 for tuition and fees, will have access to the university's undergraduate career center for career counseling, mock interviews, and other job-search resources. While it's too early to tell what kinds of jobs the business master's grads will go into, Lohr guesses they will target positions with more responsibility than that of an undergraduate business grad, but less than an MBA. "I wouldn't be surprised to see grads go into project management-type positions, where they can be the liaison between sales and the technical side of things," he says.
As the age of GMAT test-takers decreases—38 percent are under 24, up from 28 percent in 2007-08—the demand for programs like the one-year master's is rising, especially from employers. According to a recent survey of corporate recruiters conducted by the Graduate Management Admission Council, 41 percent of respondents are looking for candidates with a business master's, more than double the number two years earlier. Additionally, 51 percent of respondents preferred that these candidates have less than three years of work experience. "The market wants it," Lohr says.
A similar program was recently announced at Northwestern University's Kellogg School of Management, a business school with an elite MBA program that does not offer an undergraduate business degree. The Kellogg program, which will launch in July, is open only to Northwestern graduates until the fall of 2016.
Join the discussion on the Bloomberg Businessweek Business School Forum, visit us on Facebook, and follow @BWbschools on Twitter.
Before it's here, it's on the Bloomberg Terminal.
LEARN MORE