Crime (and Plagiarism) Pays—in Speakers' Fees
By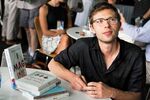 This week, the Knight Foundation, a nonprofit promoting "quality journalism," forked out a $20,000 speaking fee for disgraced science writer and author Jonah Lehrer to discuss his plagiarism and other journalistic indiscretions. While many questioned the sincerity of his mea culpa, Lehrer's towering fee drew the most scrutiny. On Thursday, the Knight Foundation issued an apology of its own, explaining that it had put "itself into a position tantamount to rewarding people who have violated the basic tenets of journalism. … It was simply not something Knight Foundation, given our values, should have paid."
Whether or not that's true, the reality is that conferences and businesses continually pay big bucks to controversial and infamous speakers—and often to individuals whose crimes came bearing far greater punishments than banishment from the invisible masthead of the New Yorker.
As Jim Romenesko noted, plagiarist Jayson Blair, who is now a life coach by trade, was paid $3,000 for a speaking appearance at Washington & Lee University's Journalism Ethics Institute.
Among those who committed crimes, Michael Milken, the junk-bond king of the 1980s who spent 10 years in prison for securities fraud, was getting $75,000 to $125,000 per speech in 2008, according to the Dallas Morning News. Jack Abramoff, the former lobbyist who was sentenced to four years in prison for corruption and tax offenses, charges $15,000 to $25,000 for speaking engagements.
In fact, it's not unusual for hard time to be followed by a windfall on the public-speaking circuit. "Why will people pay to hear a white-collar criminal speak?" says Gary Zeune, the Ohio-based accountant, speaker, and agent who runs The Pros & Cons, a firm that books speaking engagements for a roster of corporate-world fraudsters. "It's kind of like serial killers. There's just something about the psychology. Almost all white-collar criminals are like normal, upstanding citizens, though at one point there's a decision and they turn left when they should have turned right. It's a comment on our society. People just seem to be fascinated by folks who do wrong and are eager to come clean. The bigger the crime, the bigger the speaking fee."
According to Zeune, the true value in his clients is their experience as cautionary tales. "The 'I cooked the books and stole hundreds of thousands of dollars' gets the crowd in the door," he says. "But the real value is when they say: 'Let me tell you how to protect yourself from people like me, who will have stolen everything you've worked toward for 25 years.'"
Lehrer, of course, didn't cook any books in that sense. But if he were to actually succeed in heading off the next plagiarism scandal, one could make the argument that the Knight Foundation got him at a bargain price.
Before it's here, it's on the Bloomberg Terminal.
LEARN MORE