At TCU, Business Majors Must Pass the 'Interview' Test
Francesca Di Meglio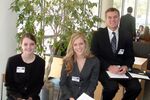 Sophomores at Texas Christian University are starching their collars and buffing their dress shoes right about now, nervously awaiting job interviews set to take place on the Fort Worth campus on Feb. 16. But these students aren't looking for employment. Each of the 395 students is looking for a berth in the undergraduate business program at TCU's Neeley School of Business, and the "interviews" are part of the admissions process.
Since 2004, CEOs, local mayors, and executives from companies such as Lockheed Martin have descended on campus for one day during the spring semester to help usher in a new class of business majors, says Lynn Cole, assistant dean of undergraduate programs at Neeley. Two businesspeople at a time, 120 in all, will interview each student for about 20 minutes this year.
"We want students to take the admissions process seriously and use this interview day as a learning opportunity," she says. "It's never too early to start working with young people and preparing them for what life is going to be like when they get out of here."
While the interviews rarely hurt an applicant's chances of being accepted to the school, it's a required part of the admissions process, one the school says is unique. About a dozen students will get rejected for failing to meet other requirements, including the minimum 3.0 GPA and certification in Microsoft Office, says Cole. "It's not about the interview," she adds.
In fact, students say they are given lots of support leading up to the interviews. Each participates in at least one mock interview with other executives and takes a course to prepare a résumé and cover letter, which are also part of the Neeley interview.
"Before TCU, my knees would have been shaking," says Michael Walton, a sophomore hoping to major in accounting and minor in Spanish. "But the school has gone out of its way to prepare us."
While Walton is going over the notes from his mock interview, his classmate Jordan Gaglione, a sophomore hoping to major in finance, is reviewing the bullet points of his résumé to make sure he can elaborate on them.
"I like to talk to people, so I'm not nervous," says Gaglione.
The interviewers will be asking applicants about their previous experiences and passion for business, but also about their perception of the global business world and how their studies have prepared them for a career, says Tom Burke, a communications manager at IBM in Fort Worth, who has been conducting the interviews since 2005.
"It's a tremendous benefit for students," he says. "They begin to realize how they are charting their careers through their studies."
As for that suit, Walton's is standing by: "I've got the Saturday morning wardrobe set out and ready to go."
Join the discussion on the Bloomberg Businessweek Business School Forum, visit us on Facebook, and follow @BWbschools on Twitter.
Before it's here, it's on the Bloomberg Terminal.
LEARN MORE