pursuits
With Heinz Deal, Ketchup Is More Valuable Than…
By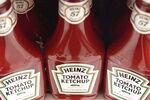 Berkshire Hathaway and 3G Capital have agreed to buy H.J. Heinz for about $23 billion. What seems like a big bet for ketchup and gravy is not far-fetched. With such other brands as Ore-Ida frozen potatoes, Smart Ones frozen meals, and Classico pasta sauces, Heinz had sales of $11.6 billion in 2012. All that food has made the company more valuable than other recent targets, including airlines and media companies. Just look at recent M&A activity:
American Airlines & US Airways
Deal value: $11 billion
The companies plan to merge, forming the world's largest carrier in terms of passenger traffic. US Airways has expressed interest in a merger since American's parent company AMR Corp. filed for bankruptcy in 2011. The new carrier, which will take American's name, will have a valuation of $11 billion.
Grupo Modelo & AB InBev
Deal Value: $20.1 billion
Anheuser-Busch InBev has offered to buy Mexican brewer Grupo Modelo. "The combination with Grupo Modelo has always been about Mexico and making Corona more global in all markets other than the U.S.," said AB InBev Chief Executive Carlos Brito in a statement. In response to an antitrust lawsuit from the U.S. Department of Justice, AB InBev today offered to sell the rights to such brands as Corona to Constellation Brands.
Virgin Media & Liberty Global
Deal value: $16 billion
Earlier this month, cable TV operator Liberty Global agreed to buy Britain's second-largest pay TV company in an effort to compete with Comcast and British Sky Broadcasting Group. Virgin Media's board and CEO are being sued by a shareholder, who says the company is being sold through an "unfair process and for [an] unfair price," according to Bloomberg News.
Nexen & CNOOC
Deal value: $15.1 billion
China's largest offshore oil and natural gas producer, CNOOC this week won approval from the Committee on Foreign Investment in the U.S. to acquire the American assets of Canadian energy company Nexen. This is the biggest overseas purchase ever by a Chinese company.
AssuraMed & Cardinal Health
Deal value: $2.07 billion
Drug distributor Cardinal Health will buy medical supplier AssuraMed to add home delivery services of health-care products for diabetes testing, tube feeding, wound care, and other needs.
Before it's here, it's on the Bloomberg Terminal.
LEARN MORE