The UFC's Dana White on Telling Chuck Liddell to Retire
The president of the Ultimate Fighting Championship on telling fighters to leave the Octagon—for good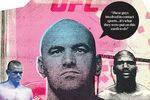 We bought the UFC in January 2001 for $2 million. At that point, it was hanging on by a shoestring, but we believed that, marketed the right way, this thing could be popular all over the world. We're all human, and fighting's in our DNA. So we got [mixed martial arts] sanctioned in every state that has an athletic commission. We invested $10 million into a reality show called The Ultimate Fighter. Now we're in 175 countries and over a billion homes worldwide. The UFC has become a part of pop culture, and we have a seven-year deal with Fox [at an estimated $100 million a year].
Some people think we're too violent. But in the 20-year history of the UFC, there has never been a death or serious injury. What other sport can say that? These guys involved in contact sports, whether it's football or mixed martial arts, it's what they were put on this earth to do. Someone can say, "Listen, I know about concussions. I had a couple in college. I'm done with them." Then there are these guys, like, "I don't give a s‑‍-‍- if I get a concussion every single hour. This is what I'm going to do until the day I die."
The guys who came off the first season of The Ultimate Fighter became some of our biggest stars. But every athlete's run comes to an end. Age catches us all. Chuck Liddell (above, left), a fighter who helped us build the brand, got to the point in time where he wasn't Chuck Liddell anymore. And I had to tell him that I wanted him to retire.
In the combat world, promoters never do that. You milk a guy for every dime you can get out of him. Instead, I brought in one of the greatest we've ever had, the ambassador of the sport, and said, "Your skills have diminished, and you can't compete anymore." He gave me a look that said, "Wait a minute. You don't believe in me anymore? I know I can do this." And I had to be, like, "No, you can't. And the reason you're so loved is because you'd rather go out on your shield than walk away." He retired, but he's with the company today. Quinton "Rampage" Jackson (above, right) is an entirely different story. The guy made $15.2 million in the UFC from 2007 to 2012, and he's bad-mouthing us. Every company this guy has ever been with, he bad-mouths. So Jackson was on a three-fight losing streak, and his contract was up three weeks ago and wasn't renewed. He can go work with people who make him happy. See ya later. Have a nice life. —As told to Keenan Mayo
Before it's here, it's on the Bloomberg Terminal.
LEARN MORE