The Future of Time Inc. Could Fall to CNN's Jeff Zucker
by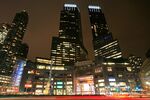 Time Warner (TWX) brought in Jeff Zucker to breathe new life into its cable news channel. Now he could find himself overseeing another challenge: resuscitating the company's newsmagazines.
Time Warner is considering a move that would send the majority of its magazines, including People, Entertainment Weekly, and InStyle, to Meredith (MDP). Under the presumptive deal, it would hold on to Time, Money, Sports Illustrated, and Fortune.
To date, Time Warner Chief Executive Officer Jeffrey Bewkes has said nothing publicly about what the company will do with its remaining magazine titles, and a spokesman for the company declined to comment to Bloomberg News about the potential deal. But one logical possibility moving forward is that Time Warner could once again try to integrate its newsmagazines—strong brands with challenging business prospects—with CNN, a struggling brand with strong business prospects.
As the New York Times notes, Bewkes has compared the company's magazine brands to cable channel brands. What that might mean in practice is likely to fall to CNN's new chief. "Jeff Zucker, the newly named president of CNN Worldwide, is said to have expressed interest in further collaborations with the newsmagazines," reports the Times.
It wouldn't be the first time that Time Warner has experimented with cross-breeding CNN with its magazines. In 1996 it rolled out CNN Sports Illustrated—a cable sports-news channel designed to compete with ESPN. Despite some editorial success, the channel failed to get widespread distribution and eventually folded in 2002.
In 2001, Time Warner once again borrowed from its stable of magazines to rebrand its financial cable channel, flipping CNNfn into CNN Money. The goal, executives explained at the time, was to benefit from centralized operations, better teamwork, and greater "synergy" between CNN, Money magazine, and Fortune. CNN Money didn't last long on TV: It was shut down in 2004. The cross-branding experiment, however, has survived online in the form of CNNMoney.com.
Despite Time Warner's lackluster history of magazine-branded cable channels, there are indications that the concept might be coming back into vogue among New York media executives who are struggling to find solid ground for their magazines in a sliding market.
Earlier this week, NBCUniversal announced it was rebranding one of its cable properties, the G4 network, with the help of Hearst Magazines. Henceforth, the channel will be known as the Esquire Network.
In a letter to his colleagues announcing the deal, David Carey, president of Hearst Magazines, laid out the argument for magazine-cable channel integrations. "One of Hearst's signature strengths is our ability to work with cable networks to create highly successful print-digital-television platforms," he wrote. "Our relationship with Scripps has resulted in two red-hot titles, Food Network Magazine and HGTV Magazine. Esquire Network flips the formula, taking a legendary brand that got its start in print 80 years ago and bringing that authority and sophistication to television."
Before it's here, it's on the Bloomberg Terminal.
LEARN MORE