Nascar Is Helping Automakers Sell Regular Cars Again
The stock car circuit revives a tactic from its early days: Helping automakers sell regular cars
by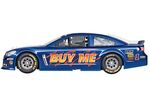 At the end of 1969, after racing in Ford Motor cars for a year, Richard Petty decided to go back to Chrysler-Plymouth. Petty had become a Nascar hero in the '60s driving souped-up Plymouth models such as the Belvedere and Savoy. When he came back, Chrysler celebrated with a press conference. "Flags in our dealer showrooms have been flying at half-staff since he left us a year ago," Chrysler's vice president, Glenn White, told reporters. "Today, they'll be flying at full-staff."
Nascar doesn't hold that kind of sway with car dealers anymore. As the sport boomed over the last 45 years, and speeds on the track pushed past 200 miles per hour, the connection between the racetrack and the showroom faded. The cars circling at Daytona Motor Speedway or Talladega Superspeedway on a Sunday afternoon came to resemble assembly line models in the way LeBron James resembles a recreational basketball player. This year, Nascar is seeking to reverse the trend with a new set of cars called Generation 6. When the season opens at the Daytona 500 on Feb. 24, fans will see cars designed to look like their showroom counterparts: the Ford Fusion, Toyota Motor's Camry, and General Motors' Chevrolet SS.
"They wanted to have the cars look much more like the cars they are selling," Nascar Chief Executive Officer Brian France says of the automakers. The idea is to make the races a more relevant showcase for car buyers. "When you win big races, you lift the image of the brand," says Jim Campbell, Chevrolet's vice president of performance vehicles and motorsports. "Good things happen after that. People put you on their shopping list faster."
It's an old strategy that goes by the slogan "Win on Sunday, Sell on Monday." New England Ford dealer Bob Tasca Sr., who died in 2010, coined the phrase. Tasca built his reputation modifying cars and sponsoring drivers for weekend drag races, a common practice during the heyday of American muscle cars. As late as the 1980s, Nascar worked much the same way, but on a grander scale. "In those days," says Robin Pemberton, Nascar's vice president of competition, "you actually went and got cars off the car lot and looked at them and took your best guess." When drivers found models that did well on the track, carmakers played off of their victories. "Ride with the winner," boasted Plymouth newspaper ads in 1966.
Since then, the twin desires for greater performance and safety have pushed Nascar away from its stock car heritage. Until 1967, drivers were required to race with cars and parts you could buy off the lot or from the shelf. Manufacturers, eager for an edge, began gaming the system by building race cars and then making limited numbers available for sale. The constant one-upping led to huge gaps between winners and losers on race day, as well as some absurd street cars.
To help level the field and keep drivers safe, Nascar changed the rules, first to allow for modified frames and then for more aerodynamic bodies. When Dale Earnhardt died after a crash at the Daytona 500 in 2001, the fourth driver killed in a year, the sport began an overhaul that led to the introduction of a standardized car in 2007.
The "Car of Tomorrow," as it was called, was designed "strictly with safety in mind," says Pemberton. On tracks until last year, the cars featured a common body and frame for all manufacturers, though individual brands were on them. They also had exotic exterior elements, such as a thermoplastic composite plate, called a splitter, hung from the front bumper to help keep them from becoming airborne. For fans, it severed any lingering connection with the cars they drove. "That's what we want to get back to," says France.
Today, racetrack glory barely registers with most car customers. In a survey of nearly 8,000 recent buyers nationwide by Foresight Research, only 3 percent rated motorsports as a major influence in their decision, the lowest of the 17 factors Foresight tracks. "Buyers today have so many different forms of information that wasn't available to them back in the '70s," says Ron Hein, an analyst at Foresight. They care more about what friends say, what they read online, and what they see on the road and in ads.
Still, racing has a measurable impact that carmakers want to tap. Races attract a disproportionate number of people Hein calls "shouters," who give 15 or more car recommendations to friends and family each year. Toyota, Ford, and Chevrolet are relying on the Gen-6 cars to help amplify this echo.
"Usually the guy on the block who is more of a gearhead or car nut is the guy who is consulted by friends or neighbors about what to buy," says Jamie Allison, director of racing at Ford. According to the company's internal research, he says, Ford racing fans move from consideration to shopping to a purchase with much greater regularity than the average prospective buyer.
All three automakers putting cars on the track this year have invested heavily in the design and promotion of the Gen-6 cars, though none will say how much. Over the last three years, they worked to meet the narrow performance standards that Nascar demands—mostly related to the way cars handle drag—while maintaining distinctive styling. The grille of the Camry has the familiar wing shape; the Fusion has a domed hood; and the headlights on Chevy's SS bend to a point like paintbrushes.
Chevrolet is unveiling the production version of the SS in Daytona, Fla., the week before the race. Like its racing counterpart, it will feature a small-block, V-8 engine and rear-wheel drive. "It's the first time we've introduced an all-new model at a racetrack in several decades," says Campbell. "Motorsports fans give you a lot of time at the track before the race. It's a great place to show them about race cars and our production cars."
Under Nascar's new rules, it will be easier for carmakers to introduce new models. "If there is a new product line that they want to go racing with," says Pemberton, "we don't have to wait." If Ford wants to promote the Mustang next season, for instance, or Dodge wants to enter a Dart, they can, as long as the new design meets the guidelines.
Nascar says the new cars are already helping the brands. Its own surveys show that the number of fans who say the cars on the track increase their interest in the manufacturers has jumped from 41 percent to 58 percent since October. That's not exactly dealership flags at full-staff, but it's a start.
"It's unrealistic to think that just because people see a Camry in a race, that they're going to get up, and Monday go buy a Camry," says Edward Laukes, Toyota's vice president of marketing and motorsports. Yet the Nascar rub-off has helped introduce Japan-based Toyota to more car shoppers who normally lean toward traditional American brands. In just seven years on the circuit, Laukes says, Toyota has caught up to the other makers in terms of landing on racing fans' consideration lists.
The new slogan, says Chevrolet's Campbell, is "Win on Sunday. Sell a car, truck, or part on Monday or any day of the week going forward."
Before it's here, it's on the Bloomberg Terminal.
LEARN MORE