B-Schools Give the 'Clicker' a Makeover
Francesca Di Meglio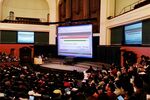 To the list of things business school students can use their smartphones for, add this: as a replacement for the ubiquitous "clicker" that many professors use for quizzes, polls, and other classroom exercises.
At a handful of schools, undergraduate business professors are now using a Web-based tool called a Top Hat Monocle that allows them to take attendance, spark class discussion, and quiz students. Using their smartphones or other gadgets, students can respond to their teacher's questions—posted online or on a screen in the classroom—by texting answers or using a Web browser to enter them directly on the Top Hat site.
The new tool functions much like a clicker, or personal response system, which is a separate electronic device that looks something like a TV remote. Clickers have been used in the college classroom for years, allowing students to respond to questions from the teacher with the push of a button. The new tool offers a number of features unavailable on most clickers, including allowing professors to pose open-ended questions, post homework and review it in class, and upload files, class notes, and supplementary material.
"It's kind of cool," says Will Lamb, associate dean for graduate programs at Ohio University College of Business. Lamb uses the technology to track attendance in his Intro to Business class, which has 100 to 140 students at any given time. To do this, he starts most classes with a three- to five-question quiz using the technology. Since the results count toward their final grade, students are motivated to show up and do the reading, he adds.
Toronto-based Top Hat grades students as they take the quiz and keeps track of everything, so professors can view the results over time. In addition to making the grading process easier, the technology also helps instructors analyze students' needs, says Lamb. "I can tell if it was my fault if they were mystified, or their fault because they didn't do the reading," he adds. "You can react to those things differently."
Eugene Beaulieu, a professor at the University of Calgary, employs Top Hat in his Economics of Sports class with about 50 students. He asks a multiple-choice question, and then students can immediately see how they fared compared with classmates. They receive bonus credit just for answering, and additional points for getting it right. Still, says Beaulieu, the main purpose is to increase participation, and it has been working.
"Everyone texts an answer and is invested in what is the right answer," he says.
Sarah Pousette, a senior in Beaulieu's class, says they can get right to the heart of an issue without having to go around the room to see how people would answer a particular question. "It's a nice way to get everyone's opinion immediately," she says.
But it's not free. Most schools so far have adopted a student-pay model in which students pay $20 per semester to register with the site (for all the classes using the technology), or $38 for five years. Professors can bundle the expense with a Pearson textbook to yield a discount, and schools can pay for licenses for all their students.
Pousette paid $20, which she says is little compared with the cost of textbooks and cheaper than most clickers. As a college student, however, she would prefer if there was a way to make it free for students, she says.
On the other hand, one of the best perks, says Pousette, is being able to bring her phone to class and actually make it part of the experience. Its ease of use is another plus. "We have to keep moving forward," she says. "We can't go back to using blackboards."
Join the discussion on the Bloomberg Businessweek Business School Forum, visit us on Facebook, and follow @BWbschools on Twitter.
Before it's here, it's on the Bloomberg Terminal.
LEARN MORE