With an Animated Series, Netflix Aims for Kids
By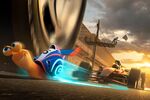 Fresh off the launch of its new Kevin Spacey political drama, House of Cards, Netflix is planning an original animated children's series.
Turbo: F.A.S.T. (Fast Action Stunt Team) is a spin-off from the DreamWorks Animation studio film Turbo, which is set for release July 19. For Netflix, which recently bolstered its kid-friendly offerings by signing an exclusivity deal with Walt Disney, the Turbo series will be its first "in-house" production aimed at children.
Turbo is a 3D comedy about a snail who suffers a freak accident that gives him the power of super-speed. As a result, Turbo "kicks his dreaming into overdrive and embarks on an extraordinary journey to achieve the seemingly impossible: competing in the Indianapolis 500," according to a joint release Tuesday from the companies. Actors in the project include Ryan Reynolds, Paul Giamatti, Maya Rudolph, and Samuel L. Jackson. The new series will make its debut in December and pick up where the movie ends.
"Families love Netflix, so creating an original series for kids was a natural for us," Ted Sarandos, Netflix's chief content officer, said in a statement announcing the deal.
Netflix's push to increase its original programming is an effort to distinguish the company from other online video services, such as Amazon Prime and Hulu Plus, which often carry the same older TV shows and movies as Netflix does. And, starting in 2016, the Disney deal means Netflix will be the exclusive online home for Disney's new releases. Netflix also licensed rights to stream Disney's older content as part of the transaction.
In a Jan. 23 letter (PDF) summarizing the past year and its views on original programming, Netflix noted its two main rivals "are moving towards increasing exclusives and original series, and over time as a group we are likely to compete more like Showtime and HBO do today." (One big difference for that competition is no sane parent plops a kid in front of Showtime's Polyamory: Married & Dating or HBO's Hung.)
As part of this transition to original content, Netflix wants to own the under-12 set. More than a year ago, the company released its first "Just for Kids" user interface to help children choose movies across an array of streaming devices.
But there's another, unique attribute to the younger demographic, as anyone with a toddler or young relative can attest: When it comes to Curious George, Rio, Rango, or Ice Age, the cherubs like multiple viewings, and the sanity of the adults in the house be damned. (A tablet, a long flight, and onboard Wi-Fi can also help make Netflix a parent's BFF.)
Add enough original and exclusive content—for $7.99 per month—and the parents of America may conclude they can live without Amazon and Hulu streaming. Parents also may see the service as an easy way to pass on $20 DVDs that will only clutter the floor. And Netflix content also comes without commercials, one of the banes of Saturday morning TV.
"If you can get an all-you can-eat children's programming service for $8 a month and now it has dramatically more with DreamWorks and Disney content, (Netflix) definitely could be more attractive than the older content that others have," says Eric Wold, an analyst with B. Riley Caris in San Francisco. "Netflix is definitely trying to make its mark in animated and kids programming in a way that others can't easily replicate."