Why Egypt Is Flooding the Gaza Strip's Tunnels
Sarah A. Topol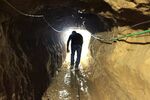 Egyptian security forces flooded smuggling tunnels that run between Egypt and Gaza this weekend, as Egypt appeared to be resuming its commitment to restore order to the beleaguered Sinai Peninsula and quell the flow of contraband into Hamas-controlled Gaza.
Hundreds of underground passageways snake under the Egypt-Gaza border, providing a way to maneuver around the 2007 Israeli-led economic blockade that took effect after the Islamic militant group took control of the Strip. The tunnels bring in everything from food and medicine to cement and iron, providing up to 75 percent of the goods that stock Gazan shelves, according to an analyst in Gaza City. The tunnels also facilitate the flow of weapons and militants into and out of the enclave. This poses problems for Egypt, already embroiled in domestic instability.
Though the tunnel industry has contracted since Israel began allowing more goods through the crossing in 2010, Gazans say they still need the passageways to supplement what the Israelis permit to cross, making the tunnels necessary for the survival of the population of 1.6 million.
Despite hopes that Egypt would be sympathetic to Gaza after Muslim Brotherhood candidate Mohammed Mursi won the country's first free and fair presidential election in June, Mursi has not eased the blockade. Instead, after unknown militants launched an attack on an Egyptian army outpost that killed 16 soldiers in August, he appeared on television and vowed: "The security forces will implement total control over all of these areas within Sinai and will ensure they are controlling it. Those behind the attacks will pay a high price, as well as those who have been co-operating with those attackers, be it those inside or anywhere in Egypt."
Egypt's Sinai Peninsula, especially the more impoverished north, has been seen as increasingly lawless since the uprising that deposed Hosni Mubarak two years ago. Security forces pulled out of the Sinai and have not since brought the territory back under full control. After the August attack, Egypt said the militants had come from Gaza, so they flooded dozens of passageways.
Flooding the tunnels has been Egypt's chosen method for clamping down on the trade, which relies on rough, plank-lined passageways dug through sand. Israel has relied on aerial bombardment—a tactic employed in the most recent war, in November 2012, and in 2008′s Operation Cast Lead.
In 2009, under Mubarak's reign, Egypt began building an underground barrier to prevent tunneling—the 100-foot-deep steel wall was deeply unpopular, furthering Mubarak's domestic image as an instrument of U.S. and Israeli foreign policy. The wall failed to cut off the flow of goods and hasn't been completed.
Working in the underground trade has always been a gamble—even without attempts from Egypt or Israel to thwart it. Injuries from tunnel collapses and electrical fires inside the passageways persist, even as Hamas has started to regulate the trade.
Emad Shaaer, a tunnel owner in Gaza, recently told Bloomberg Businessweek that owners of passageways are obliged to compensate their injured workers. Shaaer said he paid $7,000 for hospital treatment of one worker wounded by a generator and $10,000 each to the families of two men killed working in his tunnel. Fierce winter storms this January took a toll on the industry; multiple tunnels collapsed from flooding and at least six died, according to a non-governmental organization cited in a Reuters report. Tunnel workers say they understand the dangers but continue to ply the routes because the wages are good, compared to what is available in the impoverished enclave.
Egypt's actions come as Hamas meets in Cairo with Fatah, the more moderate Palestinian faction, to discuss reunification. Media reports suggest the two sides remain at odds over creating a Palestinian unity government.
Before it's here, it's on the Bloomberg Terminal.
LEARN MORE